Geyser Basins and Waterfalls
Sunday morning, July 17, 2005: I started early today in the Black Sand Basin. The downside of starting early is that there's a lot of fog around the thermal features. The upside is that you have a good chance of seeing wildlife.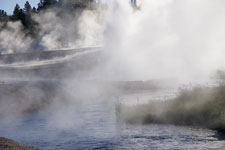 Morning Fog at Black Sand
Black Sand Basin
I found a bunch of female and young Elk at Black Sand Basin. It was nice to see the youngsters bounding around. The young actually outnumbered the adults. This is quite a contrast with the Hayden Valley, where there were many more adults than young. Cliff Geyser erupted while I was there.
| | |
| --- | --- |
| | |
| Morning at Black Sand | Elk at Black Sand |
Biscuit Basin
Biscuit Basin was the next stop. Jewel Geyser obliged with an eruption. Two bull Elks were present just past the end of the boardwalk. I planned to take a ranger-led hike from there, but there was quite a bit of time left so I headed to Midway Basin for a brief reconnaissance.
| | | |
| --- | --- | --- |
| | | |
| Black Opal Pool | Bull Elk at Biscuit Basin | Mustard Spring |
| | | |
| Sapphire Pool Outflow | Little Firehole River | Mystic Falls |
When I got back to Biscuit Basin, it was about time for the hike to Mystic Falls (3 miles and 500 feet if you return via the overlook). The ranger started by telling us about the thermal features in the basin and describing the biscuit formations that used to be there until one of the springs briefly became a geyser. Then we headed up the trail. A bull Elk, possibly one I'd seen earlier, was somewhat farther down the trail.
Mystic Falls
The trail climbs gently alongside the Little Firehole River until you get to Mystic Falls. At the falls, you have the option of returning the way you came, or switch-backing up the side of the Madison Plateau. This gives you a view of the falls from above, and a view of the entire upper geyser basin as you return to Biscuit Basin. One couple that took the upper route back had their kids with them. The boy, who has aspirations of being a mountaineer, had started out complaining that the hike was too easy. A few switchbacks changed his tune. For a while he thought it was a little hard, but by the end I think he decided it was just about right.
Mystic Falls
Upper Geyser Basin
Grand!
Sunday afternoon, July 17, 2005: I returned to Old Faithful Village for lunch. The idea was to spend the rest of the day geyser-watching in the Upper Geyser Basin. After copying down the geyser predictions at the visitor's center (and making sure I had supplies for a long afternoon), I headed toward Grand Geyser. Grand had tormented me 3 years ago. Back then, the rangers predicted a 4 hour window. Now, they have improved it to 3. Last time I waited through the entire window and then some without success. Eventually, I went to dinner and never did see it go off. This time I was determined to see the eruption. There is a companion geyser called Turban that erupts frequently (at roughly 20 minute intervals, when it is erupting). If Grand is going to erupt, it usually happens in the first minute of Turbans eruption. Most of the time it's just Turban that erupts. When I got there, I picked what I thought was a good spot (based on the wind) and settled in for a long wait.
Daisy erupted in the distance. Then Turban started to erupt. It being the very beginning of the window, I didn't expect Grand to follow, but it did! As it started to erupt, the wind shifted. I could see the water from Grand start falling closer and closer. I had to turn around and protect the optics (the water has silica in it that will leave a permanent spot). So here I am, hunched over with my back to the Grand while it erupts. I (and a bunch of others) got soaked! One person commented that we had been baptized by Grand. Interestingly, although the water is near the boiling point when it leaves the geyser, it was cool by the time it came back down. When you add the breeze, it was downright cold. Fortunately, the water moved off and I was able to move to a different vantage point where I could photograph the eruption.
Crowd at Grand
Grand Geyser
Grand Geyser
Oblong Geyser
Afterwards, I was talking with one of the regular geyser-watchers and he told me there was some chance Oblong would erupt soon (it's not very predictable). I walked over there and joined a small group sitting there hopefully. Oblong thumps several times before erupting. I heard/felt some low thumps, but no-one seemed to react. Then there was a stronger set of thumps and Oblong erupted!
Grotto and Lion Geysers
Grotto Geyser
Lion Geyser
After this, nothing else was predicted for a while. I walked over to Grotto, which was in the middle of one of its long eruptions, then headed back toward Old Faithful. On the way, I noticed West Triplet (one of the Grand group) erupting. About 10 minutes later, Lion erupted, followed by Old Faithful and Plume.
Old Faithful
After Old Faithful, Daisy was next on my agenda. Unfortunately, Daisy was 15 minutes walk away. I got moving, noticing Lion erupting again as I walked. I didn't make it in time, so I headed back to Castle, which was next on the list.
Castle Geyser
Castle went off about 5. It has a prolonged water phase, followed by a steam phase. It also made a very nice rainbow at this time of day. Nothing else was predicted before dark (except Old Faithful, which has a 92 minute interval), so I called it a day and went for dinner.
Castle Geyser
Castle Geyser
Castle's Rainbow
Birds: 149. Mammals: 25.
Old Faithful, WY