Travel to Australia
Wednesday, October 7, 2009: All started smoothly. The Supershuttle picked me up a little after 10am, meaning that I arrived at the airport in plenty of time. When checking my bags, I got the option to upgrade to first class, which I took. After sitting at the gate for a while, there was an announcement that our plane was not available, and that they would substitute a plane coming from Bogota. However, that would delay our flight by an hour or so. Since I also had a 6-hour buffer in LA, this wasn't a problem, as long as there were no more complications.
The plane from Bogota arrived more-or-less on time. It took a long time to turn the plane around as they had to do a security sweep once the passengers had left the plane. Eventually, we boarded the plane and took off 1 1/2 hours late. We made back a little of the time on the way to LA, arriving around 5pm PDT. This was still too early to check in for the Quantas flight, so I ended up sitting in the terminal for a while before taking the shuttle to the Quantas gates. Had I not been well-fed on the plane, I would have eaten dinner.
Jeri Langham and Laurie Dann showed up while I was waiting for the flight. I had not met Laurie before, but she's part of our tour group (I know some of the others from previous trips with Jeri).
The Quantas flight delayed leaving waiting for some passengers who in the end still couldn't make the connection. However, this did not materially affect our flight in Sydney. I managed to get some rest on the plane, although I didn't get any quality sleep time. It's hard to judge how much you actually sleep, but I was checking the time, and I don't think I got even a solid 15 minute block during the flight. The little sleep periods did add up, and I didn't feel particularly tired when we arrived.
Friday, October 9, 2009:
You may be wondering where Thursday went. Although it was a long flight from LA to Sydney, it was not that long. Nonetheless, Thursday happened during the flight. We took off from LA shortly before 11pm, about an hour later it became Thursday. But Thursday only lasted until we crossed the International Date Line, when it became Friday, long before landing at Sydney.
There was a bit of a delay to get off when we got to the gate. Apparently it was some complication about connecting the big Airbus 380 to the gate. I suppose that will work more smoothly when they've been running them more. The passport check was very quick, and then it was off to baggage claim for a long wait. Eventually I got my bags. I last saw Jeri at baggage claim, waiting to get his birding tour stuff. I'll see him again in a few days. As usual, there was a line at customs, but it was not too bad. After clearing customs, I caught a cab to the hotel. I was glad to be able to check in even though it was 9:30am Sydney time.
How long was the trip? The Supershuttle picked me up shortly after 10am EDT on Wednesday. That's 4pm GMT. I arrived at the hotel shortly after 9am Friday, which translates to 10pm GMT Thursday night, so the total travel time, from house to hotel, was about 32 hours.
Since I wasn't especially tired, it seemed a good time to go birding. I'd already spotted a couple of birds. My first Australia bird was Rock Pigeon, which I saw during the cab ride. I also glimpsed a large white egret, which was most likely Great Egret. I also saw some birds that might have been starlings. But the real birding starts now.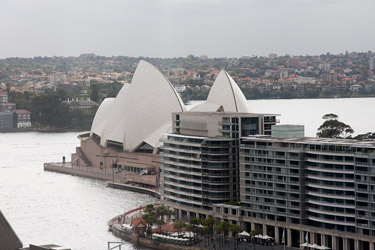 View from Hotel Room
Royal Botanic Gardens
I walked over to the nearby Royal Botanic Gardens. On the way I noticed some Silver Gulls. I also saw a flyover Australian White Ibis (similar to Sacred Ibis) during the short walk to the park. At the park I quickly spotted some Rainbow Lorikeets and the first of many Noisy Miners.
Masked Lapwings were wandering the lawn as were ibis. Some Barn Swallow-like birds that didn't look quite right turned out to be Welcome Swallows. Pied Currawongs were flying from tree to tree. They seem a little skittish, but I later noticed that they were happy to come in if food was available. A guy feeding the birds had a group that included Pacific Black Duck and Chestnut Teal. Birding was a little complicated by on-and-off rain, which meant the camera had to keep going into the backpack for protection.
| | |
| --- | --- |
| | |
| Australian White Ibis | Noisy Miner |
| | |
| Pied Currawong | Silver Gull |
As I continued to walk through the park, I encountered some very raucous white birds. No, not the ibis, which can also be raucous, but rather Sulphur-crested Cockatoo. There were quite a few around, and later, I saw about 40 flying into a couple of trees. There were some Australian Wood Ducks (also called Maned Duck, they are not closely related to the Aix wood ducks). I also found Dusky Moorhen, some of which had some chicks with them.
| | |
| --- | --- |
| | |
| Sulphur-crested Cockatoo | Dusky Moorhens |
Then I arrived at the cafe, which is surrounded by flying foxes! These are fruit-eating bats which roost in many of the trees in the park, mostly near the cafe. They are vocal during the day, and some fly around a little, but mostly they just hang from the trees. Most of the flying foxes at the garden are the Gray-headed Flying Fox, Pteropus poliocephalus, although the Black Flying Fox, Pteropus alecto, is supposed to be present in small numbers.
Flying-foxes at the Royal Botanic Gardens
Rainy Afternoon
I continued on to Mrs. Macquarie's Chair, where the is a good view of the opera house and bridge. On the way, I saw some Australian Magpies. I also noticed a different call from a swallow, more like one of the Petrochelidon. I looked, and found it was in fact a Petrochelidon swallow. There were a several of them. Eventually I was able to get a good enough look to identify them as Tree Martins. The rain was started to be more on than off, so I headed back toward the hotel. As I was leaving the park, I noticed some Common Mynas, introduced here, as they are in Florida.
| | |
| --- | --- |
| | |
| Bridge and Opera House | Bridge Walk |
| | |
| --- | --- |
| | |
| Government House | Sydney |
The rain started picking up on my way back, so I ducked into a shopping area for shelter. This was convenient for two reasons. I didn't have much Australian currency, and needed an ATM (which I found), also, I was getting hungry. An how convenient. There were some ATMs, and a food court, right there in front of me. After getting some cash, some Thai-style chicken curry took care of the hunger. Unfortunately, it was still raining. However, I was only a block or so away from the hotel, so I just made sure everything was protected in the backpack and made a break for it.
It looked like it would continue to rain for a while, so I decided it was a good time to catch up on lost sleep. As I write this, it is not raining, but it is dark. Sydney got about an inch of rain today.
So far, I have 16 species of bird for the trip, including 14 lifers.
Marriott Sydney Harbour, Sydney