Travel to Lima
Thursday, May 31th: The trip began in the afternoon with an 4:30pm American Airlines flight to Lima. Arrival in Lima was scheduled for 9:10pm Lima time. In fact, we were a bit late to leave the airport, apparently due to congestion over Colombia, and arrived about 10 minutes late. Peruvian immigration was fairly quick. I had a wait for my bag. There was a lot of baggage on the plane, and at times the conveyor was nearly full. There were still plenty of people waiting for luggage, so I guess I was somewhere in the middle. I got the green light at customs, then walked over to the hotel.
Although the hotel is not well-located for tourism in Lima (no tourist areas are near the airport), it is incredibly convenient to the airport. You arrive, roll your luggage across the street, and you are there. It's a great location if you're flying elsewhere in Peru (as to Cuzco, which I did last time), or like this time, going northwest from Lima.
The airport terminal was renovated a few years ago, and has since repeatedly been rated the best in South America. I think the Guayaquil airport is also nice. There's a pedestrian walkway above the street between the hotel and the terminal. I made a brief foray over there to get a coke and bottle of water.
Ramada Costa del Sol Hotel, Lima
Lima & Pachacamac
Friday, June 1, 2012: I got up shortly before dawn. My first bird of the trip was Rock Pigeon! As it brightened a bit (it remained overcast all day, which is typical of Lima at this time of year) I added West Peruvian Dove. In fact, there were large numbers of both species visible from my hotel room. Eventually I tracked down a couple of Eared Doves.
I got a call at 8:25 saying that my ride was here. I went down to meet the Limavision driver, and then we were off to rendezvous with the rest of the tour group. Both Kelp Gull and Belcher's Gull were visible around the Rimac. There might also have been a hooded gull of some sort, but I did not get a good look. As we drove along the coast toward the Miraflores area, I noticed some Peruvian Pelicans out in the water. Some other birds were out there too, but we couldn't stop and they were too far to ID.
Our rendezvous point was a tiny park near the Pucllana Pyramid. We arrived before anyone else, and I managed to find Scrub Blackbird, Long-tailed Mockingbird, and the local dark form of Vermilion Flycatcher in the park. Other birds were present, but these were all I caught up with.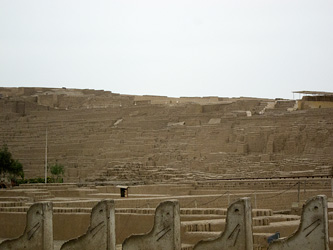 Pucllana Pyramid
The city tour started by giving us a couple of views of the Pucllana Pyramid. Then we headed for the center of Lima. We then visited the Museum of the Banco Central de Reserva, which has a collection of pre-Colombian artifacts, post-Colombian coins, and folk art.
Museum of the Banco Central de Reserva, Macera-Camero Folk Art Collection
We spent a bit of time in the Lima's Plaza Mayor, where a band played from the presidential palace. Numerous Black Vultures wheeled overhead, and a Tropical Kingbird took a spot at the top of the fountain. Then we went to the San Francisco Church and Convent (no photos allowed), eventually ending up in the catacombs (full of bones from burials). A drive through Miraflores ended by dropping people off, including two us at a restaurant for lunch.
| | |
| --- | --- |
| | |
| La Catedral | Fountain, Plaza Mayor |
| | |
| Palacio Arzobispal | Palacio de Gobierno |
Soon after I finished lunch, another bus came to take me to the same rendezvous point. We headed out toward Pachacamac. Somewhere in here I noticed a couple of Groove-billed Anis in a park. We stopped in the Barranco district where visited the "Puente de los Suspiros".
| | |
| --- | --- |
| | |
| Puente de los Suspiros | La Ermita |
We drove by a nice and birdy wetland area later on, but stopping was not on the agenda today. Eventually we reached Pachacamac. It's only about 25km from the city, but even mid-day traffic in Lima slows you down (rush hour is horrendous). We visited various temples at Pachacamac, eventually climbing atop the Temple of the Sun. I noticed one of many Blue-and-white Swallows go into a hole in one of the lower walls. It may have a nest there. From the top, I could see many unidentifiable birds on the shore, and a closer flock of Cattle Egrets. The day was getting on, and they were already closing Pachacamac when we left.
| | |
| --- | --- |
| | |
| House of the Chosen Women | Up the Pyramid |
| | |
| Pachacamac and Pachacamac Islands | Lone Guard at Pachacamac |
Some Neotropic Cormorants perched on a wire near the road were the last new bird of the day. It took quite a while to get to the airport and the Ramada through the rush hour traffic. Lima traffic is quite chaotic when moving, and in rush hour, much of the time is spent waiting. I did get to the hotel in time to join Dan and the rest of the group for dinner. We have a 5am start tomorrow.
I identified 15 bird species today, including 1 lifer.
Ramada Costa del Sol Hotel, Lima