Brian Rapoza had invited me and a couple of other local birders to join him on a Thanksgiving trip to the Bahamas. The trip was partly to find a couple of endemics, and partly to investigate the possibility of taking a Tropical Audubon group there in the future. In the end, only Brian and I could go, and due to flight availability, we would spend only two nights there. That was just enough to get us our main target species.
Thursday, November 22: Today was a very early start, as Brian was picking me up at 5am. Needless to say, traffic was light on the way to the airport. We flew to New Providence on Bahamasair. The flight was supposed to leave at 8:15, but was delayed somewhat. It only takes about 35 minutes to fly there, and the jet didn't get any higher than 21,000 feet. After clearing customs and confirming our later flights to and from Andros, we took a cab to the Retreat Gardens. Before leaving the airport area, we found Eurasian Collared-Dove, House Sparrow, and Rock Pigeon. The collared-doves in the US all derive from the Bahamian population, which was introduced in Nassau in 1974. We added Northern Mockingbird and Greater Yellowlegs on our way to the Retreat.
The Retreat is the headquarters of the Bahamas National Trust. It's a 12-acre parcel in Nassau that has a nice collection of palms in a bit of coppice forest (hammock). We paid our $2 entry fees in the office, where we got a brochure and map.
We didn't get far before finding a Bahama Woodstar. Pretty soon, we added Bananaquit, Yellow-throated Warbler, White-crowned Pigeon, and Ovenbird. Our first Caribbean Doves came out onto the gravel road near the first ovenbird. The Caribbean Dove is not native to New Providence, but was introduced in the 1920s.
| | |
| --- | --- |
| | |
| Path at the Retreat | Bahama Woodstar |
We continued to wander the trails, finding Prairie Warbler, Thick-billed Vireo, some Smooth-billed Anis, Red-legged Thrush and American Redstart. There were also Common Ground-Doves, and a flock near the parking lot added Cape May Warblers and Palm Warblers.
| | |
| --- | --- |
| | |
| Red-legged Thrush | Caribbean Dove |
We hadn't found the Cuban Grassquits yet. One of the people there told us they are often seen around houses, so we decided to try wandering the nearby neighborhoods. We added the local race of American Kestrel and La Sagra's Flycatcher, but did not find the grassquits. We encountered local bird guide Carolyn Wardle as we were walking down toward the beach. She had a couple of customers with her, but took the time to give us some information about Andros. She also told us they were headed to the Retreat for a picnic lunch.
At the beach, we found Laughing Gull, Lesser Black-backed Gull, American Herring Gull, Ruddy Turnstone, and Royal Tern. Then we walked back to the Retreat.
At the Retreat, we again saw Carolyn. She told us the grassquits had just been there, and to listen for their calls to track them down. Pretty soon we realized the birds flying about were Cuban Grassquits, and we soon got some in sight. The Cuban Grassquits are also an introduced bird on New Providence, dating back to 1963.
| | |
| --- | --- |
| | |
| Bananaquit | Cuban Grassquit |
We spoke some more with Carolyn and her customers before our taxi driver returned. Then it was back to the airport. We got back to the airport around 1pm, and then had lunch. We were probably a bit too conservative about the time. If we did this again, we might spend a bit more time in Nassau.
Our flight to Andros on LeAir was scheduled for 3:45. It was on a small plane, a twin-turboprop plane EMB-110 that holds about 20 passengers. We flew fairly low across the water as we covered the short distance to Andros. In about 10 minutes we were on the ground at Fresh Creek Airport, Andros Island. (The fast ferry from Nassau takes about 2½ hours.)
We got our rental car, then headed north toward our hotel, Love at First Sight at Stafford Creek. On the way we saw Common Gallinule, Turkey Vulture, Great Egret, and Osprey.
It was near sunset when we arrived at the hotel. Several birds called as we walked around the area during the gloaming, including Clapper Rails, Green Heron, and Belted Kingfisher. Both the rails and heron were the Bahamian subspecies. Dinner was ready when we returned to the hotel.
I encountered 34 bird species today, including 2 lifers.
Love at First Sight Hotel & Restaurant, North Andros, Bahamas
Friday, November 23: We started the day with breakfast at 6, then birded around the hotel. A few Black-faced Grassquits were present right around the buildings. We tracked down a lovely male Western Spindalis near the street. It was our first of the trip, but there would be many more to come. We also found a Loggerhead Kingbird, as well as previously seen birds such as Bananaquit.
| | |
| --- | --- |
| | |
| Love at First Sight Hotel | Stafford Creek Bridge |
| | |
| Black-faced Grassquit | Loggerhead Kingbird |
We got into the car and headed south. We took a brief look into the Forfar Field Station, which is just south of Stafford Creek, then continued south to Staniard Creek (also spelled Stanyard). The road there goes through some tidal flats that contained White Ibis, Little Blue Heron, and Tricolored Heron. A couple of Red-winged Blackbirds flew by near the end of the road. We checked the beach, but didn't find anything. Some roadside birding added Northern Parula and Eastern Phoebe to our list. The phoebe is not supposed to be here, but we found at least 3 on Andros during our trip. Both this trip and my previous trip to the Bahamas have left me with the impression that the Bahamas are underbirded, enough so that it's poorly understood what is present when.
We returned to the main road and continued south to the road leading to Captain Bill's Blue Hole in the Central Andros National Forest. The road runs through extensive pine forests with areas of coppice. It had lots of birds. We found our first Gray Catbird and Bahama Yellowthroat of the trip. A little further along we saw a bird in the road, a Zenaida Dove. We also added Pine Warbler and Blue-gray Gnatcatcher.
| | |
| --- | --- |
| | |
| Andros Pineland | Bahama Yellowthroat |
| | | |
| --- | --- | --- |
| | | |
| Loggerhead Kingbird | Zenaida Dove | Blue-gray Gnatcatcher |
The road ends near the blue hole. There's a parking area there, and a boardwalk that takes you to the blue hole. A path leads around it. You can also go straight from the parking lot on a trail that is a continuation of the road. When you reach the end of maintained part, trails go left and right. We took the right fork first. It leads into an area of coppice. You need to be careful about where you step as there are lots of solution holes (locally called banana holes for the custom of planting banana trees in them). Some of the solution holes are fairly deep, maybe 10 feet.
The park has put up interpretive signs labeling various trees. The whole area was birdy. We saw quite a few species we had already seen, and added Greater Antillean Bullfinch to our trip list. Returning to the main trail, we took the other path which led back to the blue hole. We circled the blue hole, finding Cuban Pewee as we returned to the car along the boardwalk. We started driving back to the main road, stopping to check for birds on the way. One stop included male and female Cuban Emeralds.
| | | |
| --- | --- | --- |
| | | |
| Captain Bill's Blue Hole | Banana Hole | Greater Antillean Bullfinch |
| | | |
| Cuban Pewee | Cuban Emerald | Western Spindalis |
At another stop between the park and the main road we heard a flicker-like call we didn't recognize. We tracked the bird down, and were surprised by what we saw. It was an oriole, but didn't look anything like we expected. We soon realized it had to be an immature Bahama Oriole. I checked the calls on the tapes we had, and confirmed that the call it made was on there. Success!
Bahama Oriole (immature)
After spending some time with the oriole, we returned to the main road and continued south. We stopped briefly at Small Hope Bay to see if we could eat at the lodge, but they require reservations for non-guests. We continued on to Fresh Creek, where a Cattle Egret was foraging on the roadside. We ended up having lunch at the Lighthouse Marina.
After lunch we walked along the beach past the lighthouse. The blue water in the distance was the represents the Tongue of the Ocean, a deep underwater canyon east of Andros. We also checked the vegetation to the right, and when possible, looked through at the "Tarpon Ponds". The ponds are surrounded by mangroves, and visibility was very limited. We found only a couple of spots where we could see anything of the ponds. We did find a number of small passerines in the vegetation. One flock included Indigo Bunting and Common Yellowthroat. A Reddish Egret flew toward us along the shore as we continued on. We also found a Worm-eating Warbler, and Brian spotted a couple of Pied-billed Grebes on the ponds (I missed them).
| | |
| --- | --- |
| | |
| Beach near Marina | American Kestrel |
On our return to the marina we found a Great Blue Heron. We birded the grounds of the marina. One fig tree had a lot of fruit. A variety of birds of birds were chowing down there, including many Western Spindalises. There was one new species in the flock, Black-throated Blue Warbler.
We started our return to Stafford Creek. On the way we walked a trail across from Small Hope Bay, having previously asked permission to do so. The trail ended at one of the interior Andros waterways where we found a Black-bellied Plover.
We decided to revisit Captain Bill's Blue Hole, adding Myrtle Warbler and Bahama Mockingbird to our total. It was near sunset when we returned to our hotel on Stafford Creek.
My bird total for the day was 46 species, including 1 lifer. That added 28 species to my trip total, which is now 62 species, including 3 lifers. These totals don't include the grebe.
Love at First Sight Hotel & Restaurant, North Andros, Bahamas
Saturday, November 24: We again started with breakfast at 6. This time we headed north. We turned off the main road toward the abandoned logging village of Owens Town. The old road is now partly covered with vegetation, including pine trees in one area, but remains passable. It goes through some second growth pine forest mixed with a little coppice.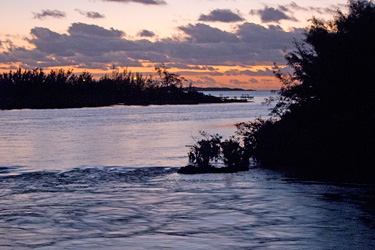 Stafford Creek Sunrise
We found the Bahamas race of Hairy Woodpecker at our first stop along the road. We stopped again near some coppice and played the cuckoo tape. This time a cuckoo called back! We could not see the bird, and eventually walked partway around the coppice/hammock in hopes of a better look. I finally played the song again, and was surprised to see something large come out to a taller tree on the edge. I was sure it was the cuckoo. However, it was so still, and hidden in the branches, it was another minute or so before we were completely convinced we had a Great Lizard-Cuckoo in sight.
| | |
| --- | --- |
| | |
| Great Lizard-Cuckoo | Black-faced Grassquit |
| | |
| La Sagra's Flycatcher | Western Spindalis |
After admiring the bird, we returned to the car and continued down to the end of the old road (or at least the passable part). Old roads went off in a couple of directions, and I eventually consulted the phone. I had reception there, and was able to get a satellite image. It showed the water a short distance ahead. Near the water's edge we found Yellow-bellied Sapsucker and Northern Waterthrush. I didn't get a proper look at the sapsucker, but we found another, more visible sapsucker later in the day near the Marina.
We returned to the car and started walking another old road parallel to the water. It went by an old foundation, where there was a Greater Antillean Bullfinch. We followed the path until it was quite overgrown. We encountered a good-sized flock of birds that contained a surprise, a Swainson's Warbler! These are quite rare here, but do occasionally winter.
Various other birds were present in the area, including Loggerhead Kingbird, La Sagra's Flycatcher, Cuban Pewee, and the ubiquitous Black-faced Grassquits and Palm Warblers. We returned to the car and headed out. We did make a stop for a female or immature Painted Bunting on the way out.
Mexican Alvaradoa
San Andros Airport was our next planned stop, but we noticed a roadside pond on the way. It contained a couple of American Coots. We attempted to bird the pond at San Andros airport, but it was so overgrown that the pond itself may no longer be there.
We drove out west in the direction of Red Bays. Some wet areas had a few egrets and a Green Heron, but nothing new. We eventually turned around, and continued on up to the north coast at Lowe's Sound. A few turnstones and a Royal Tern were present, but it was a rather disappointing shore. We continued on in to Nicholls Town in search of lunch. Most places were closed, and we decided to go back south. But first, we finally added Mourning Dove to our list.
We stopped at Uncle Charlie's Blue Hole, which Jacques Cousteau had once explored. We didn't add any new birds, but it was a nice place. It did seem odd that both a rope to swing on and a rope ladder for exiting the pool were attached to a poisonwood tree. However, there weren't many options.
| | |
| --- | --- |
| | |
| Uncle Charlie's Blue Hole | Poisonwood and Rope |
We tried the restaurant at the San Andros airport, but it was also closed. We drove on back to Fresh Creek, where we eventually found a place to eat. All the closed restaurants gave us the impression that very few tourists are on Andros around Thanksgiving.
With some time left before we had to got to the airport, we made a second visit to the marina. The surrounding trees, and especially the fruiting figs, were again full of birds. Besides many of the same birds we saw before, we found a Chestnut-sided Warbler, which is very unusual on Andros at any time. We also birded across the street, finally finding a Black-and-white Warbler. We would have been embarrassed if we couldn't get one of those on this trip!
We returned to the airport. Brian turned in the rental car and we got into a conversation with a women with the Bahamas National Trust. She told us that two of the wardens there sometimes have Bahama Orioles in their yards, and gave us some information about other places to bird on Andros. It's too late for this trip, but may come in handy if we do a TAS trip there.
The LeAir plane left for New Providence a half-hour early. We couldn't complain about that. We transferred from the domestic terminal in New Province to the nice new international terminal. We got our boarding pass and quickly breezed through US customs. We were glad to not have to deal with the long lines at Miami.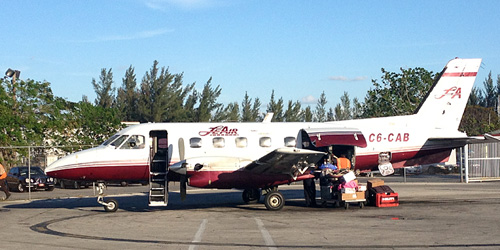 LeAir EMB-110
Nassau is one of the foreign airports with US customs, allowing flights to the US to be treated as domestic flights. Most are in Canada. The first time I encountered this was in Toronto in 1986. A check on the web reveals that the practice started at Toronto in 1952.
Unfortunately, our plane was delayed, and did not arrive until shortly after we were supposed to have left. We ended up leaving about 50 minutes late. The flight to Miami was short, and since we only had carry-on and didn't need to go through customs, we were quickly on our way home.
Today's bird total was 40 species, including 1 lifer. That added 10 species to my trip total. My final trip total is 72 species, for of them 4 lifers. My overall Bahamas list is exactly 100. Including the grebe, the two of us saw 73 species, not bad for 2½ days in the Bahamas.
Miami, FL