Tandayapa Valley
Monday, July 11, 2011: We started by walking a trail to a blind before sunrise. We found several birds at the blind. Two White-throated Quail-Doves visited the compost heap, while Rufous-capped Warbler and Immaculate Antbird visited the moth trap. One other bird also visited, but I didn't see it.
On the way back to the lodge, we found a pair of Slaty Antwrens. The feeders had substantial hummingbird activity. This included Purple-throated Woodstar, Andean Emerald, Booted Racket-tail, Fawn-breasted Brilliant, Rufous-tailed Hummingbird, Brown Violetear, Buff-tailed Coronet, Western Emerald, and Green Violetear.
Finally, it was time to hit the road. During the trek down to the bus, we found Red-headed Barbet, Golden Tanager, White-winged Brush-Finch, and Streak-necked Flycatcher. Ecuadorian Thrush and Lemon-rumped Tanager were also present, but not see by me.
Upper Tandayapa Valley
We headed up the Bellavista Road, past the Bellavista Lodge into the Upper Tandayapa Valley. Some of the birding was on the edge of the Bellavista Cloud Forest Reserve. There was good activity this morning. Some Chestnut-collared Swifts flew over. We found a Green-and-black Fruiteater. A White-bellied Woodstar gave brief looks. We just kept finding birds, including Blue-capped Tanager, Azara's Spinetail, Dusky Bush-Tanager, Plumbeous Pigeon, the big White-collared Swifts, Flavescent Flycatcher, Beryl-spangled Tanager, Blue-and-black Tanager, the beautiful Pearled Treerunner, White-tailed Tyrannulet, Grass-green Tanager (finally!), Capped Conebill, Hooded Mountain-Tanager, Black-capped Tyrannulet, Streaked Tuftedcheek, Masked Trogon, and Speckled Hummingbird. We went off the road a bit to look for a calling Ocellated Tapaculo. But first, there was a tiny bird present: Spillmann's Tapaculo. Then the Ocellated Tapaculo showed. Finally, Brian and I found a couple of Sharpe's (Sepia-brown) Wrens, which we initially mistook for Rufous Wrens. Somewhere in all this we also saw Cinnamon Flycatcher, but I didn't note down exactly when.
| | |
| --- | --- |
| | |
| Cinnamon Flycatcher | Along Bellavista Road |
Tandayapa Hummingbird Feeders
After all this, it was about time for lunch, so we returned to the lodge. Sometime today we saw a Red-tailed Squirrel (Sciurus granatensis) around the lodge. This is the red-tailed squirrel that occurs in Ecuador west of the Andes. The feeders had Collared Inca, White-necked Jacobin, and Purple-bibbed Whitetip. On the way back down to the bus after lunch, we found Red-billed Parrot, Red-eyed Vireo, Golden-crowned Flycatcher, and Marble-faced Bristle-Tyrant.
| | |
| --- | --- |
| | |
| Rufous-tailed Hummingbird | Purple-throated Woodstar |
| | |
| Booted Racket-tail | White-necked Jacobin |
| | |
| Sparkling Violetear | Hummer Action at Tandayapa |
Lower Tandayapa Valley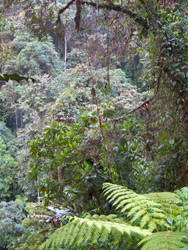 Roadside Forest
We only drove a short way up Bellavista Road, into the Lower Tandayapa Valley. A couple of Tropical Kingbirds were on a wire. I caught up with the Lemon-rumped (Flame-rumped) Tanager. Some Yellow-bellied Seedeaters were in the grass. We also found Blue-gray Tanager, White-sided Flower-piercer, Black-capped Tanager, Rufous-winged Tyrannulet, Orange-bellied Euphonia, and Choco (Tricolored) Brush-Finch. Our guide, Jose somehow spotted a Common Potoo on the other side of the valley. A Powerful Woodpecker flew into a tree the road. Jose heard a Cloud-forest Pygmy-Owl and was able to call it in. It was a protracted process, and finding the owl was even more difficult. It twice flew a short way up the road. We looked and looked for it. Somewhere during the process, a Wedge-billed Hummingbird put in a brief appearance. Finally, Jose found the a narrow gap in the vegetation that let us see the Cloud-forest Pygmy-Owl.
We went down past the village of Tandayapa to look for nightjars. Unlike the owl, the Lyre-tailed Nightjar appeared almost immediately. All who were present got good looks. Then we went back to the lodge for dinner.
My bird total for the day was 82 species, including 25 lifers. My trip total increased by 61 to 120 species, with 33 lifers.
Tandayapa Bird Lodge