Antisana Ecological Reserve
Sunday, July 17, 2011: Ten of us from both groups met for breakfast at 5am in the Hotel Sebastian. Two others had already left for the airport, and two leaving the later this morning joined us for breakfast. At 5:30, Jose arrived in a a bus to take the rest of us to the western portion of Antisana Ecological Reserve.
We picked up our first new bird of the trip when Ann spotted a Ringed Kingfisher while were still driving through greater Quito. It took some time to get to the reserve. Once there, we found a number of species including our first of many Carunculated Caracaras. Antisana seems to be Caracara City. We must have seen 30-40 of these by the time we left the reserve.
| | |
| --- | --- |
| | |
| Adult Carunculated Caracara | Immature Carunculated Caracara |
Roadside birding turned up a number of species including Cinereous Conebill, Plumbeous Sierra-Finch, and Black-billed Shrike-Tyrant.
| | |
| --- | --- |
| | |
| Flowers and Canyon | Antisana |
A little further along, we found Black-winged Ground-Dove and Andean Teal from the bus. The next stop included a Brazilian Rabbit, found while searching for the Ecuadorian Hillstar.
We drove on, spotting Andean Lapwing, Aplomado Falcon, and Black-faced Ibis from the bus.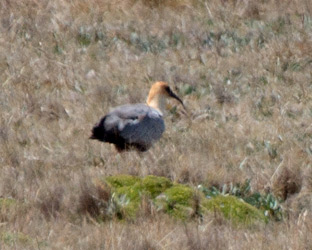 Black-faced Ibis
We finally reached Lake Mica, where we ate our lunch. There were Andean Coots next to us in the lake as we ate. Some searching and a walk through the páramo around the lack turned up some more Andean Teal, Yellow-billed Pintail, Silvery Grebe, and the Andean race of Ruddy Duck. By then it was time to head back to the bus. Ann demonstrated she was much fitter than the rest of us by running across the páramo. We wanted to get back to Quito in time for David to make his flight.
| | |
| --- | --- |
| | |
| Antisana and Lake Mica | Coot on Floating Mat |
I was changing hotels today, and ended up being dropped off first at the Hotel Quito. There's a great view from the balcony. After getting settled, I noticed some Black Vultures soaring over the hills. I late took a walk around the grounds (they have gardens with a 250 meter path). The other hotel birds were the ubiquitous Great Thrush and Rufous-collared Sparrow, and Eared Dove (common in Quito).
I had dinner at the hotel restaurant, Techo del Mundo, which has a special buffet this week with a guest Mexican chef. It bore little resemblance to what one might find in a typical Mexican restaurant in the US, but was pretty good. The restaurant is on the top (7th) floor, and has a terrific view of Quito. Oddly, although the view from there was clear, when I returned to my room, I found the view obscured by clouds rolling up the valley.
My bird total for the day was 40 species, including 2 lifers. My trip total increased by 11 to 289 species, with 95 lifers.
Hotel Quito, Quito