Guacamayos Ridge
Saturday, July 16, 2011: Today turned out to be a surprisingly slow birding day. We began with an early breakfast, then birded around the San Isidro Lodge grounds a bit. Although we didn't get any new species, we had great looks at some, including a very close Masked Trogon.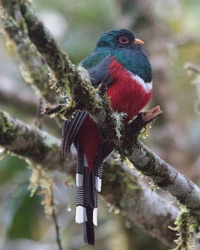 Masked Trogon
Then it was off to Guacamayos Ridge. The starting point was the same place we looked for nightjars in the rain last night. Normally, this is a good birding spot. Today, it wasn't. I only added two new birds, Green-fronted Lancebill, which many in the group had seen previously, and Blackish (Unicolored) Tapaculo.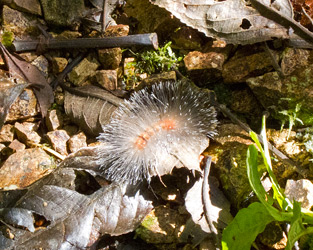 Caterpillar
The trail itself was a delightful walk through subtropical forest, even though we couldn't conjure up many birds. We descended about 450 feet, then returned to the trailhead. Although I considered it an easy trail, over half of the group managed to fall down, probably because last night's rain made parts of the trail slippery. Those of us with more experience hiking in the mountains didn't seem to have any problems.
Fog on the Guacamayos Ridge Trail
We then returned to San Isidro for lunch. It started raining as we neared the lodge, and was pouring during lunch and a run-through of the checklist. By the time we left, the rain had stopped.
We added one more bird on the way to Quito: Andean Gull. When we got to Quito, we found that the other group was already there. All of us had dinner together at 7. Unfortunately, the size of the group meant we had to use their group menu and the food was typical of the food at large events.
We went over the checklists for both groups, and found that they had seen many more species, more than would be expected by chance. It appears that much of the difference is due to the fact that they skipped Guacamayos Ridge and birded the foothills instead, obtaining a normal number of birds species.
We said good-bye to those who are returning to the US tomorrow. Most of who are staying will visit Antisana Ecological Reserve tomorrow.
My bird total for the day was 39 species, including 2 lifers. My trip total increased by 3 to 278 species, with 93 lifers.
Hotel Sebastian, Quito