Core Passerida
We have reached the heart of the Passerida, comprising over 35% of all extant bird species. We have also hit a point of major ambiguity. the division between Paroidea, Sylvioidea, the Muscicapoidea clade (possibily including Bombycilloidea, Certhiodea, and Reguloidea, as assumed here), and Passeroidea.
Supposing the clades have this form, what is the correct branching order for these groups? The short answer is that we don't know!
A longer answer is that Barker et al. (2004), Barker (2014), and Ericson et al. (2014) found that Paroidea and Sylvioidea group together, as do Muscicapoidea and Passeroidea. Barker (2014) grouped Certhiodea with Muscicapoidea and, with low support, grouped both Bombycilloidea and Reguloidea with Passeroidea. Both Irestedt and Ohlson (2008) and Johansson et al.'s (2008b) 6-gene analysis found Passeroidea to be the basal group, followed by Muscicapoidea, with Paroidea then sister to Sylvioidea. Alström et al.'s (2014) 7-gene analysis found a similar arrangment, with Reguloidea on its own branch. Johansson et al.'s (2008b) 3-gene analysis using more taxa came up with a different arrangement that also had Passeroidea basal. Hackett et al. (2008) only included a few taxa, but obtained a different arrangement with Bombycilloidea and Reguloidea sister to Muscicapoidea and Sylvioidea, and Passeroidea sister to the whole lot! Finally, Nabholz et al. (2011) argued in favor of a basal Muscicapoidea, with Paroidea the next branch, and Sylvioidea and Passeroidea as sisters. In other words, we don't know.
Since Bombycilloidea, Certhiodea, and Reguloidea repeatedly group with Muscicapoidea, I'm treating them as one group, even though there is some disagreement with this. As for the others, there is no reasonable way to choose an order. The order Paroidea, Sylvioidea, Muscicapoidea group, Passeroidea is a holdover from the once using the Barker et al. (2004) topology.
The Paroidea are a relatively small group containing three small to medium-sized families: Stenostiridae (fairy flycatchers), Remizidae (penduline-tits), and Paridae (chickadees and titmice). So far, the various genetic studies have not been able to accurately place this clade. Indeed, even support for its existence is not strong. The Stenostriridae may not be that closely related to the Paridae and Remizidae. It's also possible that Hyliotidae belongs in this superfamily.
The studies based on RAG-1 and RAG-2 support this clade (Barker et al., 2004; Beresford et al, 2005; Reddy and Cracraft, 2007) as does Barker et al. (2002) and the recent 7-gene analysis of Fregin et al. (2012). However, Johanssen et al. (2008b), Fuchs et al. (2006a, 2009), and Nguembock et al. (2008b) find that Stenostiridae is on a separate branch from Paridae. Fregin et al. (2012) examines more genes, and I'm following that for now.
3 genera, 9 species
Not HBW Family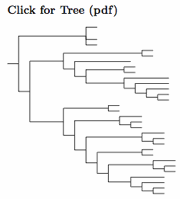 Click for Stenostiridae tree
The Stenostiridae are a new family. They are a group of small African and Asian flycatchers that were previously scattered across three superfamilies but belong to none of them. They include the Fairy Flycatcher Stenostira (Sylvioidea: Sylviidae), the Yellow-bellied Flycatcher, Chelidorhynx hypoxanthus (Corvoidea: Rhipiduridae) Elminia (Corvoidea: Monarchidae) crested-flycatchers, and the Culicicapa (Muscicapoidea: Muscicapidae) canary-flycatchers. The last three Elminia were previously considered part of the genus Trochocercus in the corvid family Monarchidae.
Nguembock et al. (2008b) was the first paper to analyze the 8 then-known species in the Stenostiridae. They confirm the arrangement below, and like the other analyses, they find that the Stenostiridae are only distantly related to the other Passerida.
More recently, Nyári et al. (2009a) and Fuchs et. al (2009) found a ninth member of the Stenostiridae. It is the Yellow-bellied Fantail, Rhipidura hypoxantha, which had been considered unusual. Some authors had previously separated it as the monotypic genus Chelidorhynx. Accordingly, it becomes Chelidorhynx hypoxanthus. Fuchs et al. (2009) show that it is sister to the Fairy Flycatcher.
Yellow-bellied Flycatcher / Yellow-bellied Fantail, Chelidorhynx hypoxanthus
Fairy Flycatcher, Stenostira scita
Gray-headed Canary-flycatcher, Culicicapa ceylonensis
Citrine Canary-flycatcher, Culicicapa helianthea
Blue Crested-flycatcher / African Blue-flycatcher, Elminia longicauda
Blue-and-white Crested-flycatcher / White-tailed Blue-flycatcher, Elminia albicauda
Dusky Crested-flycatcher, Elminia nigromitrata
White-bellied Crested-flycatcher, Elminia albiventris
White-tailed Crested-flycatcher, Elminia albonotata
1 genus, 4 species
Not HBW Family
This small group of African endemics was considered part of Sylviidae until recently. Current evidence suggests they are not particularly closely related to the Sylvioidea at all, nor do they seem particularly related to any clade in Passerida. However, they are Passerida—and more deeply so than the Australasian Robins (Fuchs et al., 2006a). Barker's (2014) analysis of the complete mitochondrial genome placed them close to Paridae (no Stenostiridae or Remizidae) were included in the analysis. Alström et al.'s (2014) 7-gene analysis (6-nuclear, 1 mitochondrial) placed them as here, sister to Remizidae plus Paridae, with Stenostiridae basal to all.
This family needs a name! Hyliotidae is the obvious name. However, Hyliotinae was used by Reitter in 1880 for a beetle subfamily (now called Brontinae). It was based on the preocupied beetle genus Hyliota Reitter 1880 even though the bird genus Hyliota Swainson 1827 has priority over Hyliota. I'm not sure exactly how ICZN rules apply to a case like this. I don't know whether Hyliotidae can legitimately be used for this group without an ICZN ruling.
Yellow-bellied Hyliota, Hyliota flavigaster
Southern Hyliota, Hyliota australis
Usambara Hyliota, Hyliota usambara
Violet-backed Hyliota, Hyliota violacea
3 genera, 11 species
HBW-13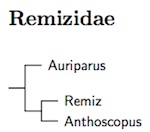 Although Cephalopyrus is usually placed in this family, the only available molecular data put it in the Paridae (Tietze and Borthakur, 2012). There hasn't been a genetic study of the entire group, but the sparse sample examined by Tietze and Borthakur (2012) found the rest of the family to be paraphyletic, but with extremely low support. The results in the basal portion of their tree are hard to swallow and I suspect that they are just an artifact. The arrangement is based on James et al. (2003) and Gill et al. (2005).
Verdin, Auriparus flaviceps
Eurasian Penduline-Tit, Remiz pendulinus
Black-headed Penduline-Tit, Remiz macronyx
White-crowned Penduline-Tit, Remiz coronatus
Chinese Penduline-Tit, Remiz consobrinus
Sennar Penduline-Tit, Anthoscopus punctifrons
Yellow Penduline-Tit, Anthoscopus parvulus
Mouse-colored Penduline-Tit, Anthoscopus musculus
Forest Penduline-Tit, Anthoscopus flavifrons
Gray Penduline-Tit, Anthoscopus caroli
Cape Penduline-Tit, Anthoscopus minutus
14 genera, 66 species
HBW-12
The two main changes in the membership of the Paridae have already been mentioned: the Paridae gain Hume's Groundpecker (formerly Hume's Ground-Jay), Pseudopodoces humilis from the Corvidae (see James et al., 2003; Gill et al., 2005) and the Fire-capped Tit, Cephalopyrus flammiceps from the closely related Remizidae (Tietze and Borthakur, 2012). I had previously based the arrangement of genera and species on a combination of Dai et al. (2010), Gill et al. (2005), Illera et al. (2011), James et al. (2003), and Tietze and Borthakur (2012). The current arrangement follows the comprehensive multi-gene analysis (2 nuclear, 1 mitochondrial) of Johansson et al. (2013), which is similar to previous arrangement, but differs in detail. As most nodes in Johansson et al. were strongly supported, I have adopted it wholesale.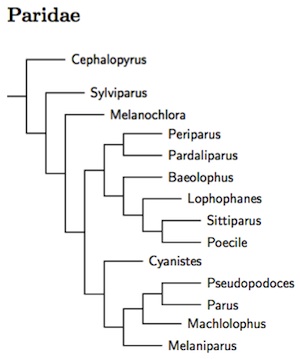 Click for Paridae tree
The Paridae start with 3 basal species, the Fire-capped Tit (formerly in Remizidae), Yellow-browed Tit, and Sultan Tit. The remainder of the Paridae then divide into two clades. The first clade includes the coal tit and allies (Periparus and Pardaliparus), the titmice (Baeolophus), crested-tits (Lophophanes), the Varied Tit and White-fronted Tit (now united in Sittiparus), the Eurasian crested tits (Lophophanes), Nearctic crested tits (Baeolophus) and the chickadees (Poecile). The second clade includes the blue-tits (Cyanistes), Hume's Groundpecker (Pseudopodoces), the Great Tit and allies (Parus), the remaining Indo-Malayan tits (Machlolophus), and the Afrotropical tits (Melaniparus).
This involves the use of 4 additional genera, as recommened by Johansson et al. (2013). There are two in the first clade. These allows separating the Coal Tit and allies into Periparus (mostly temperate) from Pardaliparus (tropical and subtropical, Selys-Longchamps 1884, type elegans). The Varied and White-fronted Tits of the far east are separated as Sittiparus (Selys-Longchamps 1884, type varius). Further, based on McKay et al. (2014), the Chestnut-bellied Tit, Sittiparus castaneoventris, and Iriomote Tit, Sittiparus olivaceus, have been separated from Varied Tit, Sittiparus varius. The case for olivaceus is rather marginal. However, Owston's Tit, Sittiparus owstoni, was found to be embedded in the remaining portion of the varius complex and is not recognized, contra McKay et al. (2014).
The two additional genera in the second clade permit us to retain the distinctive Hume's Groundpecker in a separate genus. The former Parus tits from the Afrotropics are put in Melaniparus (Bonaparte 1850, type niger) while the Indo-Malayan tits go in Machlolophus (Cabanis 1851, type spilonotus).
Johansson et al. (2013) also found that the Caspian Tit, Poecile hyrcanus, is not closely related to the Sombre Tit, Poecile lugubris. As a result, the Caspian Tit is treated as a separate species here. The arrangement of the chickadees is based on Harris et al. (2014a). They sequenced a number of additional nuclear genes and found this to be the most likely topology. Mitochondrial genes consistently give a different result where the plumage does not make sense.
The African Blue Tit, Cyanistes teneriffae, has been split into Palma Blue Tit, Cyanistes palmensis, Libyan Blue Tit, Cyanistes cyrenaicae, Canary Blue Tit, Cyanistes teneriffae, and Ultramarine Tit, Cyanistes ultramarinus, based on Stervander et al. (2015). See also Illera et al. (2011), Päckert et al. (2013b), and Gohli et al. (2014). Given that two Cyanistes now have names other than "Blue Tit", I have removed the hyphens.
Stervander et al. (2015) find evidence that three lineages of Blut Tits have invaded the Canary Island. The Palma and Libyan Blue Tits are relics of an earlier African lineage, while the Canary Blue Tit (C. teneriffae, including ombriosus and hedwigii) has separated from the more recent African lineage. Finally, its sister lineage, the Ultramarine Tit, C. ultramarinus, of northwest Africa has also invaded the Canaries in Fuerteventura and Lanzarote (subspecies degener).
The Turkestan Tit, Parus major bokharensis group, is treated as a subspecies of the Great Tit, Parus major, based on the analyses of Kvist et al. (2003) and Päckert et al. (2005). However, they studied very few individuals from the bokharensis group. Their results did not quite match (except that bokharensis is quite variable genetically) and the individual studied by Johansson et al. (2013) ended up on a longer than expected branch. Further investigation may support species status for the Turkestan Tit.
Fire-capped Tit, Cephalopyrus flammiceps
Yellow-browed Tit, Sylviparus modestus
Sultan Tit, Melanochlora sultanea
Coal Tit, Periparus ater
Rufous-naped Tit, Periparus rufonuchalis
Rufous-vented Tit, Periparus rubidiventris
Yellow-bellied Tit, Pardaliparus venustulus
Elegant Tit, Pardaliparus elegans
Palawan Tit, Pardaliparus amabilis
Bridled Titmouse, Baeolophus wollweberi
Oak Titmouse, Baeolophus inornatus
Juniper Titmouse, Baeolophus ridgwayi
Tufted Titmouse, Baeolophus bicolor
Black-crested Titmouse, Baeolophus atricristatus
Gray Crested-Tit, Lophophanes dichrous
Crested Tit / European Crested-Tit, Lophophanes cristatus
White-fronted Tit, Sittiparus semilarvatus
Chestnut-bellied Tit, Sittiparus castaneoventris
Varied Tit, Sittiparus varius
Iriomote Tit, Sittiparus olivaceus
White-browed Tit, Poecile superciliosus
Sombre Tit, Poecile lugubris
Pere David's Tit, Poecile davidi
Marsh Tit, Poecile palustris
Caspian Tit, Poecile hyrcanus
Black-bibbed Tit, Poecile hypermelaenus
Willow Tit, Poecile montanus
Sichuan Tit, Poecile weigoldicus
Gray-headed Chickadee, Poecile cinctus
Boreal Chickadee, Poecile hudsonicus
Chestnut-backed Chickadee, Poecile rufescens
Black-capped Chickadee, Poecile atricapillus
Carolina Chickadee, Poecile carolinensis
Mountain Chickadee, Poecile gambeli
Mexican Chickadee, Poecile sclateri
Eurasian Blue Tit, Cyanistes caeruleus
Azure Tit, Cyanistes cyanus
Palma Blue Tit, Cyanistes palmensis
Libyan Blue Tit, Cyanistes cyrenaicae
Canary Blue Tit, Cyanistes teneriffae
Ultramarine Tit, Cyanistes ultramarinus
Hume's Groundpecker / Ground Tit, Pseudopodoces humilis
Green-backed Tit, Parus monticolus
Great Tit, Parus major
Japanese Tit, Parus minor
Cinereous Tit, Parus cinereus
White-naped Tit, Machlolophus nuchalis
Yellow Tit, Machlolophus holsti
Yellow-cheeked Tit, Machlolophus spilonotus
Himalayan Black-lored Tit, Machlolophus xanthogenys
Indian Black-lored Tit, Machlolophus aplonotus
White-shouldered Black-Tit, Melaniparus guineensis
White-winged Black-Tit, Melaniparus leucomelas
Rufous-bellied Tit, Melaniparus rufiventris
Cinnamon-breasted Tit, Melaniparus pallidiventris
White-bellied Tit, Melaniparus albiventris
Carp's Tit, Melaniparus carpi
Southern Black-Tit, Melaniparus niger
Dusky Tit, Melaniparus funereus
Miombo Tit, Melaniparus griseiventris
Stripe-breasted Tit, Melaniparus fasciiventer
Acacia Tit, Melaniparus thruppi
Red-throated Tit, Melaniparus fringillinus
White-backed Black-Tit, Melaniparus leuconotus
Ashy Tit, Melaniparus cinerascens
Gray Tit, Melaniparus afer
Sylvioidea has been a mess for a long time. Both the Sylviidae and Timaliidae have been treated at taxonomic trashcans (along with the Muscicapidae), and the boundaries between them have been rather vague. If a species is hard to classify, just dump it in one of these. Then we don't have to worry about it. This has been a particular problem because many of the species look very similar. The lack of a distinct juvenile plumage helps separate them from the Muscicapoidea, but there's really not much to go on in terms of morphology.
Just how much of a mess the Sylvioidea were is exemplified by the Sibley-Monroe checklist. They removed the cisticolas, kinglets, parids, and white-eyes and others, cleared out most of the corvid radiation, and still had a mass of 560 species lumped together in the family Sylviidae with the Timaliidae nested inside as a tribe (Timaliini). This was actually progress as it was an admission about how little we knew.
Recently, this new Sylvioidea has been undergoning major restructuring, starting with the formation of a new superfamily---Certhioidea (Cracraft et al., 2004). The Certhioidea are comprised of several families of small birds that the modified SAM list has at the beginning of the Sylvioidea. In fact, they may be more closely related to the Muscicapoidea. One could include them in the Muscicapoidea, but I follow the Tree of Life and place in a separate superfamily. The families in question are the Sittidae (nuthatches), Tichodromidae (wallcreeper), Certhiidae (treecreepers), Polioptilidae (gnatcatchers and gnatwrens), and Troglodytidae (wrens). Further, the parids have been removed to Paroidea, and the kinglets put near Muscicapoidea.
Although these results cleared the ground, what was really needed was to sample a large number of sylvioid and timaliid taxa. Alström, Beresford, Ericson and others attacked the problem on a wide scale, while Cibois and company focused on Timaliidae. The result is that the Sylvioidea have been sliced and diced.
Much work is still to be done on sylvioid and timaliid taxonomy, but Alström, Cibois, and their associates have managed to build a framework of sylvioid families. The framework will probably need some adjustment and rearrangement, but I think it creates a coherent set of families. The framework involves the creation of fourteen new families: Panuridae, Stenostiridae (removed to Paroidea), Nicatoridae, Macrosphenidae, Acrocephalidae, Donacobiidae, Bernieridae, Locustellidae, Pnoepygidae, Hyliidae, Cettiidae, Phylloscopidae, Pellorneidae, and Leiothrichidae. The arrangement given in the tree below is based on the 7-gene analysis of Fregin et al. (2012).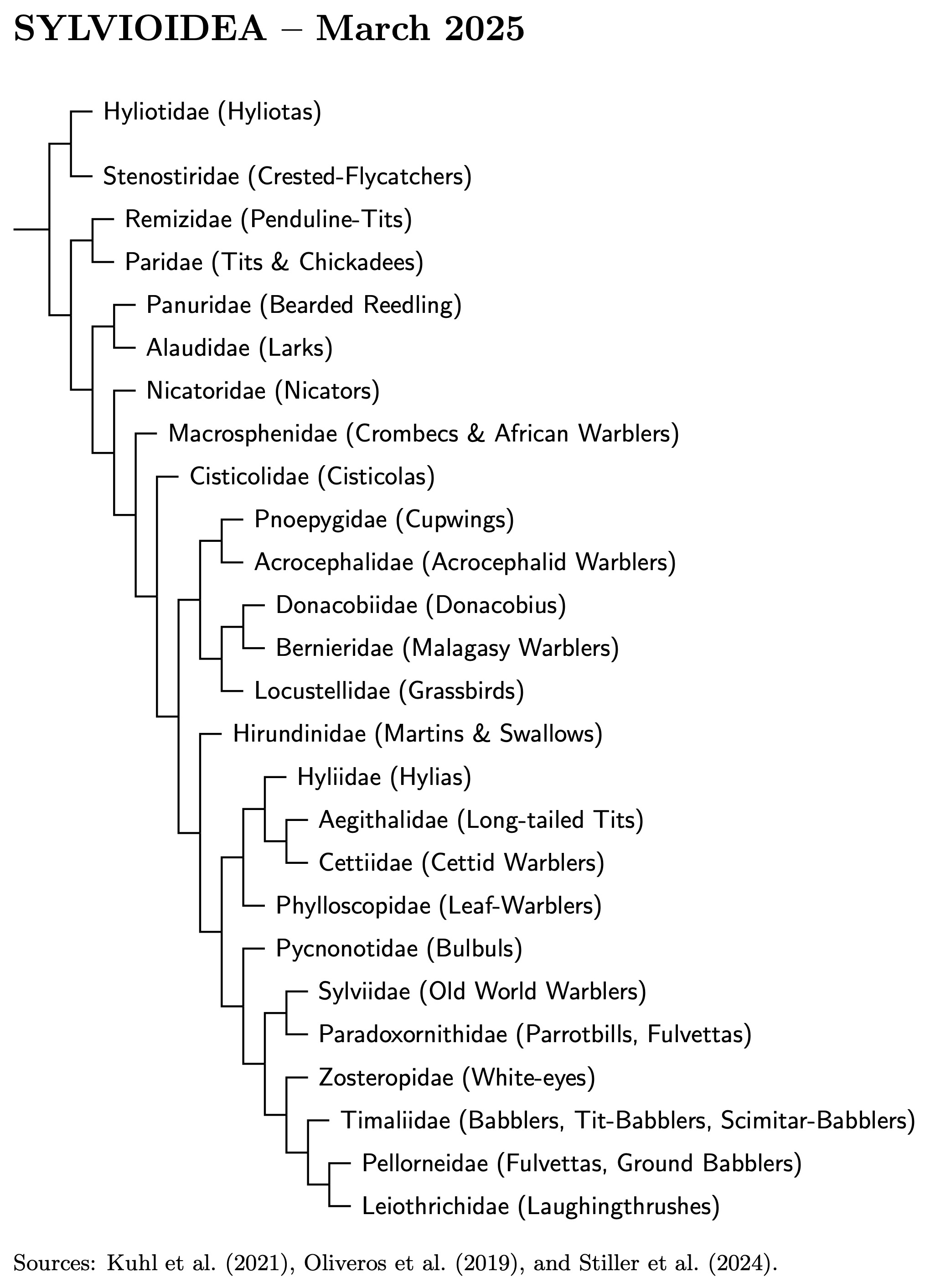 One way to think of the new Sylvioidea is that it is babblers, bulbuls, larks, swallows, and Old World warblers. The new Sylvioidea is very much an Old World group. Only the swallows make it to the New World in numbers. Otherwise, there are only a handful of native breeders, the cosmopolitan Horned Lark (Alaudidae), the Neotropical Black-capped Donacobius (Donacobiidae), the Bushtit (Aegithalidae) of western North America, Alaska's Arctic Warbler (Phylloscopidae), and the Wrentit (Paradoxornithidae), which resides in the west coast of North America.
For those wanting more information, the papers by Alström et al. (2006), Barker et al. (2004), Beresford et al. (2005), Jønsson and Fjeldså (2006a), Johansson et al. (2008b), Gelang et al. (2009), and Fregin et al. (2012) lay out the big picture, and Cibois (2003), Cibois et al. (1999, 2001, 2002), Fuchs et al. (2006a, b), Nguembock et al. (2007), Pasquet et al. (2006), and Zhang et al. (2007) fill in many of the details. I also recommend Don Roberson's web page, The Break-up of the Old World Warblers, which covers the changes to the Sylviidae.
Nicatoridae, Panuridae, and Alaudidae
Here the Sylvioidea splits into two clades. The smaller one contains the Panuridae, Alaudidae (larks), and possibly the Nicatoridae. There's only one species in the Panuridae, the Bearded Reedling (Panurus biarmicus), although there is a slight chance that others may still be hidden within Sylviodea.
1 genus, 3 species
Not HBW Family
The nicators form are a small African clade. They were formerly considered to be in the bulbul family, but seem not closely related to anything else (Beresford et al., 2005; Johansson et al., 2008b). They seem to require their own family. Fregin et al. (2012) suggest they are sister to the Panuridae/Alaudidae clade.
Western Nicator, Nicator chloris
Eastern Nicator, Nicator gularis
Yellow-throated Nicator, Nicator vireo
1 genus, 1 species
Not HBW Family
There have been many opinions about how to classify the Reedling, and it was sometimes considered a parid or parrotbill, usually with a name to match (Bearded Tit or Bearded Parrotbill). It had recently been considered a parrotbill (Paradoxornithidae). Using overlapping but distinct data sets, Alström et al. (2006), Ericson and Johansson (2003), Fregin et al. (2012), and Fuchs et al. (2006a) concur that Panurus is sister to the larks.
Bearded Reedling, Panurus biarmicus
21 genera, 97 species
HBW-9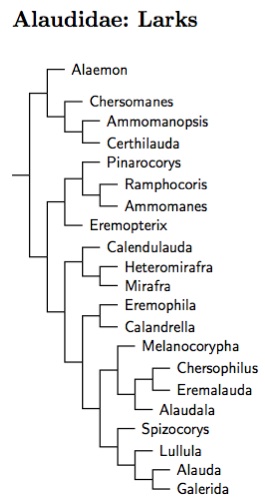 Click for Alaudidae tree
The larks are the major piece of this clade. Although they were considered part of Passeroidea in the modified SAM list, this is not correct. Rather, they belong in the Sylvioidea. Although the placement of the larks may have changed, their composition has not. This reflects the fact that they are one of the two easily identifiable passerine families (the swallows are the other).
Previously, Tieleman et al. (2003) found that some of the generic limits need adjusting (including Mirafra) and that some general reorganization is called for. Some of the blanks were filled in as Ryan et al. (1998) separated Barlow's Lark from Karoo Lark, while Ryan and Bloomer (1999) studied the long-billed larks. Gray's Lark is now in a different genus (Ammomanopsis), as are the long-billed larks (Certhilauda).
Note that the Sidamo Lark, Heteromirafra sidamoensis, has been lumped with Archer's Lark, Heteromirafra archeri. Spottiswoode et al. (2013) found virtually no genetic distance between them.
The comprehensive genetic analysis by Alström et al. (2013) has prompt additional adjustments of genetic boundaries and an overall reorganization of the family. They analyzed about 5/6 of the lark species. They found that Pseudalaemon is embedded in Spizocorys, that the Madagascan Lark, Mirafra hova, belongs in Eremopterix, that Calandrella is really two genera (Alaudala is the other), and that the White-winged Lark, Melanocorypha leucoptera, appears to belong in or near Alauda.
More precisely, the Sand Lark, and Athi, Asian, Lesser, and maybe Somali Short-toed Larks are not closely related to the other Calandrella larks. This group takes the name Alaudala (Horsfield and Moore 1856, type raytal).
The issue of the White-winged Lark is interesting. Its plumage is very similar to the Mongolian Lark, Melanocorypha mongolica, and it is hard to see how such similar plumage would evolve independently. However, the genetic analysis was very clear that it is not in Melanocorypha, instead falling in a clade that includes Galerida and Alauda. Exactly where in the clade is not so clear. The combined analysis places it sister to Alauda, but it may be sister to Galerida plus Alauda. Alström et al. recommend placing it in Alauda, and I follow that here. But what about the plumage? It is not unknown for there to be errors in the lab, and I'm not convinced this has been completely ruled out. However, as Alström et al. point out, it does seem more like Alauda in behavior, ecology, morphology, and vocally, so maybe it is an Alauda. But then how did the White-winged and Mongolian Larks end up with such similar plumage? No other lark has such plumage.
Guillaumet et al. (2005, 2006, 2008) have been studying the Galerida larks. This has lead to the split of Crested Lark, Galerida cristata, with the long-billed subspecies in the Maghreb becoming Maghreb Lark, Galerida macrorhyncha, while the short-billed subpsecies remain in Galerida cristata. The subspecies of Thekla Lark, Galerida theklae, around the horn of Africa seem to be candidates for one or more future splits (the subspecies involved include ellioti, praetermissa, and hueii).
Although coverage of subspecies was limited, Alström et al. (2013) also found indications that the Thekla Lark contains multiple species. There may also be multiple species within the Desert Lark. Further, the Greater Short-toed Lark is also a candidate for a split.
Alström et al.'s (2013) results also suggest that there are multiple species within the Horned Lark complex. In fact, their results suggested that two of the races of Horned Lark appeared closer to Temminck's Lark, and the genetic distance between American Horned Larks and some (but not all) of the Eurasian Horned Larks was considerable. However, Drovetski et al. (2014) found small genetic distances between all of these taxa. Although they suggested treating the group as 6 species instead of 2, my own reading is that they are better treated as 4 subspecies groups. The Horned Larks then become 4 groups: longirostris (argalea, teleschowi, przewalskii, nigrifrons, deosaiensis, longirostris, elwesi, khamensis); Temminck's Lark, E. bilopha (monotypic); penicillata (atlas, balcanica, kumerloevei, penicillata, bicornis, albigula); and alpestris (flava, brandti, and all New World subspecies). I don't see why the allopatric Temminck's Lark should be treated as a separate species, but until I find out more about why it was split, I maintain the current treatment.
Greater Hoopoe-Lark, Alaemon alaudipes
Lesser Hoopoe-Lark, Alaemon hamertoni
Spike-heeled Lark, Chersomanes albofasciata
Beesley's Lark, Chersomanes beesleyi
Gray's Lark, Ammomanopsis grayi
Short-clawed Lark, Certhilauda chuana
Benguela Long-billed Lark, Certhilauda benguelensis
Karoo Long-billed Lark, Certhilauda subcoronata
Eastern Long-billed Lark, Certhilauda semitorquata
Cape Long-billed Lark, Certhilauda curvirostris
Agulhas Long-billed Lark, Certhilauda brevirostris
Rufous-rumped Lark, Pinarocorys erythropygia
Dusky Lark, Pinarocorys nigricans
Thick-billed Lark, Ramphocoris clotbey
Bar-tailed Lark, Ammomanes cinctura
Desert Lark, Ammomanes deserti
Rufous-tailed Lark, Ammomanes phoenicura
Black-eared Sparrow-Lark, Eremopterix australis
Madagascan Lark, Eremopterix hova
Black-crowned Sparrow-Lark, Eremopterix nigriceps
Chestnut-backed Sparrow-Lark, Eremopterix leucotis
Ashy-crowned Sparrow-Lark, Eremopterix griseus
Chestnut-headed Sparrow-Lark, Eremopterix signatus
Gray-backed Sparrow-Lark, Eremopterix verticalis
Fischer's Sparrow-Lark, Eremopterix leucopareia
Pink-breasted Lark, Calendulauda poecilosterna
Foxy Lark, Calendulauda alopex
Fawn-colored Lark, Calendulauda africanoides
Sabota Lark, Calendulauda sabota
Karoo Lark, Calendulauda albescens
Red Lark, Calendulauda burra
Dune Lark, Calendulauda erythrochlamys
Barlow's Lark, Calendulauda barlowi
Archer's Lark, Heteromirafra archeri
Rudd's Lark, Heteromirafra ruddi
Collared Lark, Mirafra collaris
Rusty Bushlark, Mirafra rufa
Gillett's Lark, Mirafra gilletti
Eastern Clapper-Lark, Mirafra fasciolata
Cape Clapper-Lark, Mirafra apiata
Rufous-naped Lark, Mirafra africana
Red-winged Lark, Mirafra hypermetra
Somali Lark, Mirafra somalica
Ash's Lark, Mirafra ashi
Flappet Lark, Mirafra rufocinnamomea
Angolan Lark, Mirafra angolensis
Burmese Bushlark, Mirafra microptera
Bengal Bushlark, Mirafra assamica
Indian Bushlark, Mirafra erythroptera
Jerdon's Bushlark, Mirafra affinis
Indochinese Bushlark, Mirafra erythrocephala
Williams's Lark, Mirafra williamsi
Monotonous Lark, Mirafra passerina
Melodious Lark, Mirafra cheniana
Horsfield's Bushlark, Mirafra javanica
Singing Bushlark, Mirafra cantillans
Kordofan Lark, Mirafra cordofanica
White-tailed Lark, Mirafra albicauda
Friedmann's Lark, Mirafra pulpa
Horned Lark, Eremophila alpestris
Temminck's Lark, Eremophila bilopha
Hume's Short-toed Lark, Calandrella acutirostris
Greater Short-toed Lark, Calandrella brachydactyla
Blanford's Lark, Calandrella blanfordi
Erlanger's Lark, Calandrella erlangeri
Red-capped Lark, Calandrella cinerea
Bimaculated Lark, Melanocorypha bimaculata
Calandra Lark, Melanocorypha calandra
Black Lark, Melanocorypha yeltoniensis
Tibetan Lark, Melanocorypha maxima
Mongolian Lark, Melanocorypha mongolica
Dupont's Lark, Chersophilus duponti
Dunn's Lark, Eremalauda dunni
Athi Short-toed Lark, Alaudala athensis
Asian Short-toed Lark, Alaudala cheleensis
Sand Lark, Alaudala raytal
Lesser Short-toed Lark, Alaudala rufescens
Somali Short-toed Lark, Alaudala somalica
Stark's Lark, Spizocorys starki
Sclater's Lark, Spizocorys sclateri
Short-tailed Lark, Spizocorys fremantlii
Masked Lark, Spizocorys personata
Obbia Lark, Spizocorys obbiensis
Pink-billed Lark, Spizocorys conirostris
Botha's Lark, Spizocorys fringillaris
Woodlark, Lullula arborea
White-winged Lark, Alauda leucoptera
Raso Lark, Alauda razae
Sky Lark / Eurasian Skylark, Alauda arvensis
Oriental Skylark, Alauda gulgula
Sun Lark, Galerida modesta
Large-billed Lark, Galerida magnirostris
Thekla Lark, Galerida theklae
Crested Lark, Galerida cristata
Maghreb Lark, Galerida macrorhyncha
Malabar Lark, Galerida malabarica
Sykes's Lark, Galerida deva
Macrosphenidae
7 genera, 19 species
Not HBW Family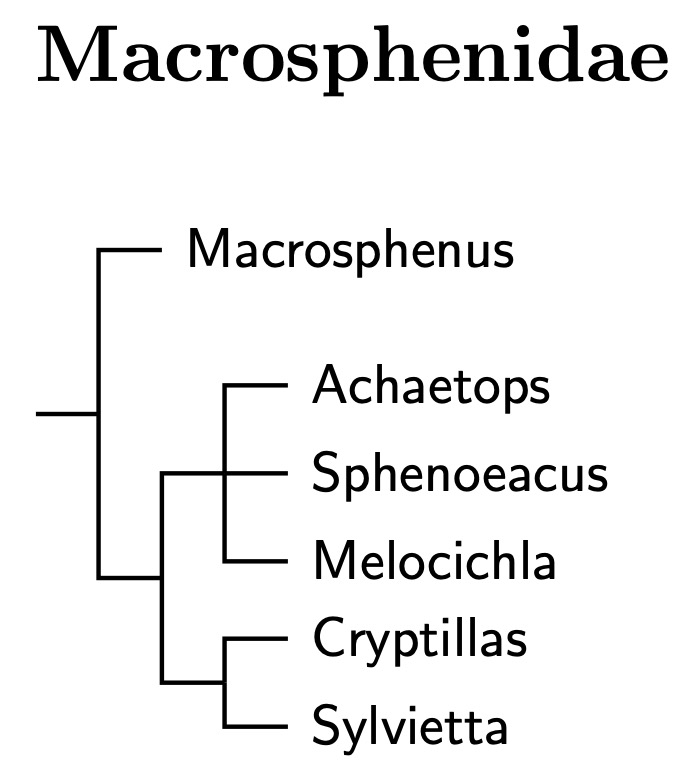 The Macrosphenidae are another one of the new families. This is formed entirely from the Sylviidae and consists of crombecs and some African warblers (see Beresford et al., 2005; Nguembock et al., 2007). Johansson et al. (2008b) and Fregin et al. (2012) put it next in order.
Victorin's Warbler was formerly considered part of the genus Bradypterus. The rest of Bradypterus is now in Locustellidae.
Although Alström placed Macrosphenus kretschmeri in the bulbuls, this turned out to be a mistake based on a mislabelled specimen (Johansson et al., 2007b). However, Macrosphenus kretschmeri is different enough from the other Macrosphenus to sometimes get its own genus (Suaheliornis). It has yet to be sequenced and it is possible it does not belong here. I've also put Grauer's Warblers here, as it is thought to possibly be close to Macrosphenus. The rest of the family has been arranged using Johansson et al. (2007b).
Grauer's Warbler, Graueria vittata
Yellow Longbill, Macrosphenus flavicans
Kemp's Longbill, Macrosphenus kempi
Gray Longbill, Macrosphenus concolor
Pulitzer's Longbill, Macrosphenus pulitzeri
Kretschmer's Longbill, Macrosphenus kretschmeri
Rockrunner, Achaetops pycnopygius
Cape Grassbird, Sphenoeacus afer
Moustached Grass Warbler, Melocichla mentalis
Victorin's Warbler, Cryptillas victorini
Northern Crombec, Sylvietta brachyura
Red-faced Crombec, Sylvietta whytii
Philippa's Crombec, Sylvietta philippae
Long-billed Crombec, Sylvietta rufescens
Somali Crombec, Sylvietta isabellina
Red-capped Crombec, Sylvietta ruficapilla
Green Crombec, Sylvietta virens
Lemon-bellied Crombec, Sylvietta denti
White-browed Crombec, Sylvietta leucophrys
Acrocephalus Group
The next six families seem to be relatively closely related. The Cisticolidae seem to belong here, although a bit of uncertainty remains (Fregin et al., 2012). Although it belongs in this clade, there's also some uncertainty about exactly where the Pnoepygidae go.
1 genus, 5 species
Not HBW Family
Gelang et al. (2009) found that the Pnoepyga wren-babblers do not belong to any of the extant Sylvioidea families. They recommend placing it in its own family. Their analysis suggested they might be close to the cisticolas or bulbuls, but with low support. The overlapping analyses of Alström et al. (2011a) and Irestedt et al. (2011) included any family that might be related. The Pnoepygidae ended up as a basal member of this group. We follow Fregin et al. (2012) in considering Pnoepygidae sister to Acrocephalidae.
The Chinese Wren-babbler, Pnoepyga mutica, has been split from the Scaly-breasted Wren-babbler, Pnoepyga albiventer based on Päckert et al. (2013a).
Nepal Wren-babbler, Pnoepyga immaculata
Pygmy Wren-babbler, Pnoepyga pusilla
Taiwan Wren-babbler, Pnoepyga formosana
Scaly-breasted Wren-babbler, Pnoepyga albiventer
Chinese Wren-babbler, Pnoepyga mutica
8 genera, 63 species
Not HBW Family
The reed-warblers, Acrocephalidae, are another new family formed out of the Sylviidae. The arrangement here is primarily based on Arbabi et al. (2014a) with help from Fleischer et al. (2007), Cibois et al. (2007, 2008, 2011) and Fregin et al. (2009). The multigene analysis of Arbabi supercedes much of Fregin et al. (2009), Leisler et al. (1997) and Helbig and Seibold (1999). Cibois et al. (2007, 2011) give insight into how the reed-warblers expanded into Polynesia. The exact branching pattern differs some between Cibois et al. and Fleischer et al., and I have used a compromise version here which presumes each did best where taxon sampling was densest. I follow this in preference to Fregin et al. for the Polynesian species, as Fregin et al. only sampled one gene from that group. For the other species, Fregin et al. is given preference.
Although there had been some question about which family it belongs to, Nesillas seems basal in the Acrocephalidae. Johansson et al. (2008b) included one member of Nesillas in their analysis. They found that it too was part of Acrocephalidae. Johansson et al. (2008b) and Fregin et al. (2009) concur that it is also more basal among the acrocephalids sampled.
The single species in Calamonastides was formerly included in Chloropeta. Following Fregin et al. (2009), the other two former Chloropeta have been submerged in Iduna, which otherwise contains former Hippolais warblers. Earlier work suggested that the Thick-billed Warbler, Arundinax aedon, may not be closely related to the remaining Acrocephalus. Fregin et al. place it sister to Iduna, but Arbabi et al. (2014a) find it sister to Calamonastides.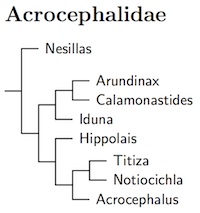 Click for Acrocephalidae tree
Both Leisler et al. and Helbig and Seibold endorsed some of the traditional subgenera of Acrocephalus. Fregin et al. (2009) is consistent with this arrangement. The small streaked Acrocephalus become Titiza Billberg, 1828 (which has priority over Calamodus Kaup, 1829) while most of the small unstreaked Acrocephalus become Notiocichla. Although often placed elsewhere, the Large-billed Reed-Warbler belongs in Notiocichla (Bensch and Pearson, 2002). Iduna consists of former Hippolias warblers.
The Millerbird is sometimes considered as two species, Nihoa Millerbird, Acrocephalus kingi, and the extinct Laysan Millerbird, Acrocephalus familiaris. The genetic distance is in the species/subspecies borderline area (Fleischer et al., 2007). AOU currently treats them as one species, as I do here.
Cibois et al. (2011) were the first to include A. luscinius, syrinx, and rehsei in their analysis. They also examined a number of the extinct island taxa (see also Cibois et al., 2008). As a result, The Saipan Reed-Warbler, Acrocephalus hiwae, Pagan Reed-Warbler, Acrocephalus yamashinae, and Mangareva Reed-Warbler, Acrocephalus astrolabii are split from Nightingale Reed-Warbler, Acrocephalus luscinius. Also, Garrett's Reed-Warbler, Acrocephalus musae and Moorea Reed-Warbler, Acrocephalus longirostris are split from Tahiti Reed-Warbler, Acrocephalus caffer. Note that most of these taxa are now extinct.
Malagasy Brush-Warbler, Nesillas typica
Subdesert Brush-Warbler, Nesillas lantzii
Anjouan Brush-Warbler, Nesillas longicaudata
Grand Comoro Brush-Warbler, Nesillas brevicaudata
Moheli Brush-Warbler, Nesillas mariae
Aldabra Brush-Warbler, Nesillas aldabrana
Thick-billed Warbler, Arundinax aedon
Papyrus Yellow Warbler, Calamonastides gracilirostris
Booted Warbler, Iduna caligata
Sykes's Warbler, Iduna rama
Olivaceous Warbler / Eastern Olivaceous-Warbler, Iduna pallida
Isabelline Warbler / Western Olivaceous-Warbler, Iduna opaca
African Yellow-Warbler, Iduna natalensis
Mountain Yellow-Warbler, Iduna similis
Upcher's Warbler, Hippolais languida
Olive-tree Warbler, Hippolais olivetorum
Melodious Warbler, Hippolais polyglotta
Icterine Warbler, Hippolais icterina
Sedge Warbler, Titiza schoenobaenus
Aquatic Warbler, Titiza paludicola
Moustached Warbler, Titiza melanopogon
Speckled Reed-Warbler, Titiza sorghophila
Black-browed Reed-Warbler, Titiza bistrigiceps
Paddyfield Warbler, Notiocichla agricola
Manchurian Reed-Warbler, Notiocichla tangorum
Blunt-winged Warbler, Notiocichla concinens
Blyth's Reed-Warbler, Notiocichla dumetorum
Large-billed Reed-Warbler, Notiocichla orina
Marsh Warbler, Notiocichla palustris
African Reed-Warbler, Notiocichla baeticata
Mangrove Reed-Warbler, Notiocichla avicenniae
Eurasian Reed-Warbler, Notiocichla scirpacea
Caspian Reed-Warbler, Notiocichla fusca
Basra Reed-Warbler, Acrocephalus griseldis
Lesser Swamp-Warbler, Acrocephalus gracilirostris
Greater Swamp-Warbler, Acrocephalus rufescens
Cape Verde Swamp-Warbler / Cape Verde Warbler, Acrocephalus brevipennis
Madagascan Warbler / Madagascan Swamp-Warbler, Acrocephalus newtoni
Rodrigues Warbler, Acrocephalus rodericanus
Seychelles Warbler, Acrocephalus sechellensis
Great Reed-Warbler, Acrocephalus arundinaceus
Oriental Reed-Warbler, Acrocephalus orientalis
Clamorous Reed-Warbler, Acrocephalus stentoreus
Nightingale Reed-Warbler, Acrocephalus luscinius
Saipan Reed-Warbler, Acrocephalus hiwae
Australian Reed-Warbler, Acrocephalus australis
Aguiguan Reed-Warbler, Acrocephalus nijoi
Carolinian Reed-Warbler, Acrocephalus syrinx
Kiritimati Reed-Warbler / Bokikokiko, Acrocephalus aequinoctialis
Southern Marquesan Reed-Warbler, Acrocephalus mendanae
Pagan Reed-Warbler, Acrocephalus yamashinae
Nauru Reed-Warbler, Acrocephalus rehsei
Millerbird, Acrocephalus familiaris
Pitcairn Reed-Warbler, Acrocephalus vaughani
Henderson Reed-Warbler, Acrocephalus taiti
Cook Reed-Warbler, Acrocephalus kerearako
Rimatara Reed-Warbler, Acrocephalus rimitarae
Garrett's Reed-Warbler, Acrocephalus musae
Tahiti Reed-Warbler, Acrocephalus caffer
Moorea Reed-Warbler, Acrocephalus longirostris
Northern Marquesan Reed-Warbler, Acrocephalus percernis
Tuamotu Reed-Warbler, Acrocephalus atyphus
Mangareva Reed-Warbler, Acrocephalus astrolabii
1 genus, 1 species
Not HBW Family
The monotypic Black-capped Donacobius has variously been considered a wren, thrush, or mockingbird. It is none of these. It is a sylvioid that is fairly closely related to the following Malagasy warblers and grassbirds. We place it next in order in its own family.
Black-capped Donacobius, Donacobius atricapilla
8 genera, 11 species
Not HBW Family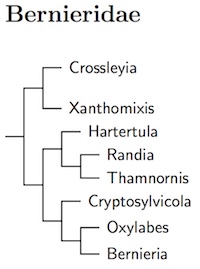 The new Malagasy warbler family, Bernieridae mostly comes from the Sylviidae, except for Bernieria itself, which comes from the Pycnonotidae (Cibois et al., 1999, 2001). Whether Rand's Warbler belongs in the group is uncertain.
Kiritika Warbler / Thamnornis, Thamnornis chloropetoides
White-throated Oxylabes, Oxylabes madagascariensis
Long-billed Bernieria, Bernieria madagascariensis
Cryptic Warbler, Cryptosylvicola randrianasoloi
Wedge-tailed Jery, Hartertula flavoviridis
Rand's Warbler, Randia pseudozosterops
Madagascan Yellowbrow, Crossleyia xanthophrys
Spectacled Tetraka, Xanthomixis zosterops
Appert's Tetraka, Xanthomixis apperti
Dusky Tetraka, Xanthomixis tenebrosa
Gray-crowned Tetraka, Xanthomixis cinereiceps
15 genera, 61 species
Not HBW Family
Another new family follows: the grassbirds. As with several of the other new families, the Locustellidae are comprised entirely of former Sylviidae. Indeed, many were members of the Megalurinae subfamily, so the name Megaluridae has been used for this family. This fails to properly account for the addition of Locustella to the group. The name Locustellidae, which is used by BOU, has priority over Megaluridae. In particular, Locustellidae dates to Bonaparte in 1854, while Megaluridae dates to Blyth (1875, p.117; see also Bock, 1994). Blyth's Megaluridae included Locustella, and may be the only such use for over a century.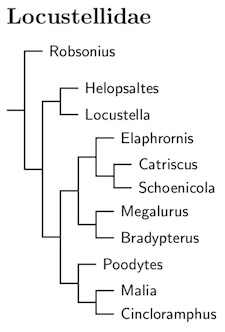 Click for Locustellidae
species tree
For a long time, both Megalurus and Locustella have been included in families with more senior names (e.g. Sylviidae, Turdidae, Muscicapidae). Megaluridae appears to have next seen the light of day (as Megalurinae) in Sibley and Ahlquist (1985a). As their Megalurinae did not contain Locustella, their use has no bearing on the correct name of this family as currently constituted. Alström et al. (2006) added Locustella to the Megaluridae, but it apparently did not occur to them that Locustella might bring its own family name with it. This was subsequently followed by a few authors (and this website), but Sangster et al. (2009) listed the family as Locustellidae. A little checking showed it had priority, and this website now follows their lead.
Oliveros et al. (2012) found that two additional genera previously regarded as babblers also belong with the grassbirds: Robsonius and Malia. A little denser taxon sampling would have been nice, but Robsonius appears to be basal, and Malia appears to be somewhere near Cincloramphus.
Hosner et al. (2013c) found a previously undiscovered Robsonius species, the Sierra Madre Ground-Warbler Robsonius thompsoni.
The Asian Bradypterus species were previously to Locustella using a combination of Drovetski et al (2004), guesswork based on geography and rumors of a paper by Alstöm and others (which I had not then seen). Alström et al. (2011b) confirms the previous restructuring of Locustella and Bradypterus. The current arrangement of species and genera is based on their study, which included about 2/3 of the species in Locustellidae. The species and genera not included are marked with a question mark or blue on the tree. Dromaeocercus has been merged into Bradypterus.
As Alström et al. remind us, some of the genera not tested may not belong to this family. They also note that several species show an excessive amount of genetic variation and likely contain two or more species. This is particularly true of Little Rush Warbler, Bradypterus baboecala. Certain other species pairs are very closely related, and may not truly be distinct biological species. These cases still need further sorting out, and potential changes are not reflected in the current species list.
Alström et al. (2011b) also found evidence that Megalurus is polyphyletic. However, the taxonomic changes they propose suggest they doubt this. The taxonomic changes implemented here take this evidence more seriously. The troublesome species is the Striated Grassbird, Megalurus palustris, which doesn't seem to group with the rest of Megalurus. Since it is the type species, that means the others need to change their genus.
The Tawny Grassbird is close to the songlarks, and I've moved it and the New Guinean grassbirds into Cincloramphus. It seemed appropriate to resurrect the genus Bowdleria (Rothschild 1896, punctata) for the New Zealand fernbirds. That and the phylogeny mean that the Littel Grassbird needs its own genus. The name Poodytes (Cabanis 1850) is available.
The position of the thicketbirds (Buettikoferella and Megalurulus) is speculative, and the position of the other untested genera more so. This is particularly true of Chaetornis.
The Marsh Grassbird, now Locustella pryeri, was originally moved from Megalurus based on Drovetski et al. (2004b). This was confirmed by Alström et al. (2011b).
Drovetski et al. (2004) and Alström et al. (2011b) found substantial genetic differences between the Sakhalin Grasshopper-Warbler, Locustella amnicola, and Gray's Grasshopper-Warbler, Locustella fasciolata. These had been suspected to be separate species, and so are split here.
Bicol Ground-Warbler / Gray-banded Babbler, Robsonius sorsogonensis
Cordillera Ground-Warbler / Rusty-faced Babbler, Robsonius rabori
Sierra Madre Ground-Warbler, Robsonius thompsoni
Sri Lanka Bush-Warbler, Elaphrornis palliseri
Gray's Grasshopper-Warbler, Locustella fasciolata
Sakhalin Grasshopper-Warbler, Locustella amnicola
Marsh Grassbird, Locustella pryeri
Pallas's Grasshopper-Warbler, Locustella certhiola
Middendorff's Grasshopper-Warbler, Locustella ochotensis
Styan's Grasshopper-Warbler, Locustella pleskei
Lanceolated Warbler, Locustella lanceolata
River Warbler, Locustella fluviatilis
Savi's Warbler, Locustella luscinioides
Brown Bush-Warbler, Locustella luteoventris
Chinese Bush-Warbler, Locustella tacsanowskia
Common Grasshopper-Warbler, Locustella naevia
Long-billed Bush-Warbler, Locustella major
Chestnut-backed Bush-Warbler, Locustella castanea
Long-tailed Bush-Warbler, Locustella caudata
Friendly Bush-Warbler, Locustella accentor
Baikal Bush-Warbler, Locustella davidi
Spotted Bush-Warbler, Locustella thoracica
West Himalayan Bush-Warbler, Locustella kashmirensis
Taiwan Bush-Warbler, Locustella alishanensis
Russet Bush-Warbler, Locustella mandelli
Benguet Bush-Warbler, Locustella seebohmi
Javan Bush-Warbler, Locustella montis
Timor Bush-Warbler, Locustella timorensis
Bristled Grassbird, Chaetornis striata
Striated Grassbird, Megalurus palustris
Fan-tailed Grassbird, Schoenicola brevirostris
Broad-tailed Grassbird, Schoenicola platyurus
Gray Emutail, Amphilais seebohmi
Barratt's Warbler, Bradypterus barratti
Bangwa Forest-Warbler, Bradypterus bangwaensis
Evergreen Forest-Warbler, Bradypterus lopezi
Cinnamon Bracken Warbler, Bradypterus cinnamomeus
Brown Emutail, Bradypterus brunneus
Bamboo Warbler, Bradypterus alfredi
Knysna Warbler, Bradypterus sylvaticus
Little Rush Warbler, Bradypterus baboecala
Grauer's Swamp Warbler, Bradypterus graueri
Ja River Scrub Warbler, Bradypterus grandis
White-winged Swamp Warbler, Bradypterus carpalis
Malia, Malia grata
Brown Songlark, Cincloramphus cruralis
Rufous Songlark, Cincloramphus mathewsi
Tawny Grassbird, Cincloramphus timoriensis
Papuan Grassbird, Cincloramphus macrurus
Fly River Grassbird, Cincloramphus albolimbatus
Spinifex-bird, Eremiornis carteri
Little Grassbird, Poodytes gramineus
Chatham Fernbird, Bowdleria rufescens
New Zealand Fernbird, Bowdleria punctata
Buff-banded Thicketbird, Buettikoferella bivittata
New Caledonian Thicketbird, Megalurulus mariei
New Britain Thicketbird, Megalurulus grosvenori
Melanesian Thicketbird, Megalurulus whitneyi
Bougainville Thicketbird, Megalurulus llaneae
Rusty Thicketbird, Megalurulus rubiginosus
Long-legged Thicketbird, Megalurulus rufus
26 genera, 158 species
HBW-11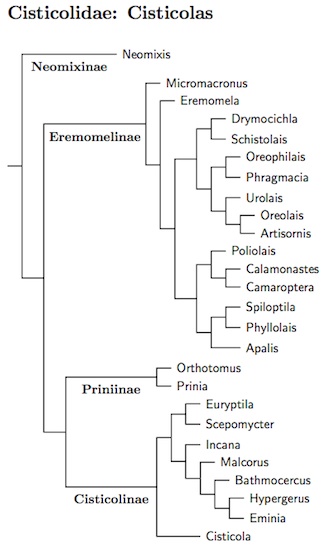 The cisticola family has grown since Sibley and Ahquist (1990) separated it from the Sylviidae. Gains include Eremomela, Micromacronus (Oliveros et al., 2012), Neomixis (except flavoviridis, now in Hartertula), Phyllolais. Poliolais and most of Orthotomus (except two species now in Phyllergates). On the negative side, Rhopophilus has been lost to the Paradoxornithidae (Alström et al., 2006) and two prinias have been put in Laticilla and moved to the Pellorneidae (Olsson et al., 2013a). Following Nguembock et al. (2008a), I've moved the Black-collared Apalis and Ruwenzori Apalis to Oreolais, which is sister to Artisornis. Like the Artisornis, the Oreolais have 10 rather than 12 rectrices. Also, Mrs. Moreau's Warbler and the recently split Rubeho Warbler are now listed in the genus Scepomycter.
The arrangement of the genera is based primarily on Olsson et al. (2013a). Alström et al. (2006), Johansson et al. (2008b), and Nguembock et al. (2007, 2008a, 2012) were also consulted.
Olsson et al. found that monotypic genera Heliolais and Urorhipis are embedded within Prinia. They also found that two prinias do not belong within Prinia. They have been placed in Laticilla (Blyth 1845, type burnesii). The birds in question are the Rufous-vented Prinia, Laticilla burnesii, and the Swamp Prinia, Laticilla cinerascens. At present, we do not know which genus is the closest relative of Laticilla, but they are not part of Cisticolidae. They belong in Pellorneidae and seem to be closer to Pellorneum than to Graminicola.
The arrangement of the Orthotomus tailorbirds follows the estimated species tree in Sheldon et al. (2012). The Trilling Tailorbird, Orthotomus chloronotus, has been split from Philippine Tailorbird, Orthotomus castaneiceps as also advocated by Collar (2011). Further, I've added the newly discovered Cambodian Tailorbird, Orthotomus chaktomuk (Mahood et al, 2013). Amazingly, this new species was found right in Phnom Penh.
Neomixinae
Olsson et al., 2013a
Green Jery, Neomixis viridis
Common Jery, Neomixis tenella
Stripe-throated Jery, Neomixis striatigula
Eremomelinae
Sharpe, 1883
Visayan Miniature-Babbler, Micromacronus leytensis
Mindanao Miniature-Babbler, Micromacronus sordidus
Yellow-bellied Eremomela, Eremomela icteropygialis
Salvadori's Eremomela, Eremomela salvadorii
Yellow-vented Eremomela, Eremomela flavicrissalis
Senegal Eremomela, Eremomela pusilla
Green-backed Eremomela, Eremomela canescens
Green-capped Eremomela, Eremomela scotops
Karoo Eremomela, Eremomela gregalis
Burnt-necked Eremomela, Eremomela usticollis
Rufous-crowned Eremomela, Eremomela badiceps
Turner's Eremomela, Eremomela turneri
Black-necked Eremomela, Eremomela atricollis
Red-winged Gray Warbler, Drymocichla incana
Sierra Leone Prinia, Schistolais leontica
White-chinned Prinia, Schistolais leucopogon
Roberts's Warbler, Oreophilais robertsi
Namaqua Warbler, Phragmacia substriata
Green Longtail, Urolais epichlorus
Black-collared Apalis, Oreolais pulcher
Ruwenzori Apalis, Oreolais ruwenzorii
Long-billed Forest-Warbler, Artisornis moreaui
Red-capped Forest-Warbler, Artisornis metopias
White-tailed Warbler, Poliolais lopezi
Gray Wren-Warbler, Calamonastes simplex
Miombo Wren-Warbler, Calamonastes undosus
Stierling's Wren-Warbler, Calamonastes stierlingi
Barred Wren-Warbler, Calamonastes fasciolatus
Yellow-browed Camaroptera, Camaroptera superciliaris
Olive-green Camaroptera, Camaroptera chloronota
Green-backed Camaroptera, Camaroptera brachyura
Hartert's Camaroptera, Camaroptera harterti
Cricket Warbler, Spiloptila clamans
Buff-bellied Warbler, Phyllolais pulchella
Bar-throated Apalis, Apalis thoracica
Yellow-throated Apalis, Apalis flavigularis
Namuli Apalis, Apalis lynesi
Taita Apalis, Apalis fuscigularis
Rudd's Apalis, Apalis ruddi
Yellow-breasted Apalis, Apalis flavida
Lowland Masked-Apalis, Apalis binotata
Mountain Masked-Apalis, Apalis personata
Black-throated Apalis, Apalis jacksoni
White-winged Apalis, Apalis chariessa
Black-capped Apalis, Apalis nigriceps
Black-headed Apalis, Apalis melanocephala
Chirinda Apalis, Apalis chirindensis
Chestnut-throated Apalis, Apalis porphyrolaema
Kabobo Apalis, Apalis kaboboensis
Chapin's Apalis, Apalis chapini
Sharpe's Apalis, Apalis sharpii
Buff-throated Apalis, Apalis rufogularis
Kungwe Apalis, Apalis argentea
Karamoja Apalis, Apalis karamojae
Bamenda Apalis, Apalis bamendae
Gosling's Apalis, Apalis goslingi
Gray Apalis, Apalis cinerea
Brown-headed Apalis, Apalis alticola
Priniinae
Roberts, 1922
Common Tailorbird, Orthotomus sutorius
Rufous-tailed Tailorbird, Orthotomus sericeus
Rufous-fronted Tailorbird, Orthotomus frontalis
Dark-necked Tailorbird, Orthotomus atrogularis
Cambodian Tailorbird, Orthotomus chaktomuk
Ashy Tailorbird, Orthotomus ruficeps
Olive-backed Tailorbird, Orthotomus sepium
Philippine Tailorbird, Orthotomus castaneiceps
Trilling Tailorbird, Orthotomus chloronotus
Gray-backed Tailorbird, Orthotomus derbianus
Yellow-breasted Tailorbird, Orthotomus samarensis
White-eared Tailorbird, Orthotomus cinereiceps
Black-headed Tailorbird, Orthotomus nigriceps
Striated Prinia, Prinia crinigera
Brown Prinia, Prinia polychroa
Black-throated Prinia, Prinia atrogularis
Hill Prinia, Prinia superciliaris
Gray-crowned Prinia, Prinia cinereocapilla
Rufous-fronted Prinia, Prinia buchanani
Rufescent Prinia, Prinia rufescens
Gray-breasted Prinia, Prinia hodgsonii
Graceful Prinia, Prinia gracilis
Jungle Prinia, Prinia sylvatica
Bar-winged Prinia, Prinia familiaris
Yellow-bellied Prinia, Prinia flaviventris
Ashy Prinia, Prinia socialis
Tawny-flanked Prinia, Prinia subflava
Plain Prinia, Prinia inornata
Pale Prinia, Prinia somalica
River Prinia, Prinia fluviatilis
Black-chested Prinia, Prinia flavicans
Karoo Prinia, Prinia maculosa
Drakensberg Prinia, Prinia hypoxantha
Sao Tome Prinia, Prinia molleri
Banded Prinia, Prinia bairdii
Red-fronted Warbler, Prinia rufifrons
Red-winged Warbler, Prinia erythroptera
Cisticolinae
Sundevall, 1872
Cinnamon-breasted Warbler, Euryptila subcinnamomea
Winifred's Warbler, Scepomycter winifredae
Rubeho Warbler, Scepomycter rubehoensis
Socotra Warbler, Incana incana
Rufous-eared Warbler, Malcorus pectoralis
Black-headed Rufous Warbler, Bathmocercus cerviniventris
Black-faced Rufous Warbler, Bathmocercus rufus
Oriole Warbler, Hypergerus atriceps
Gray-capped Warbler, Eminia lepida
Red-faced Cisticola, Cisticola erythrops
Singing Cisticola, Cisticola cantans
Whistling Cisticola, Cisticola lateralis
Trilling Cisticola, Cisticola woosnami
Chattering Cisticola, Cisticola anonymus
Bubbling Cisticola, Cisticola bulliens
Chubb's Cisticola, Cisticola chubbi
Hunter's Cisticola, Cisticola hunteri
Black-lored Cisticola, Cisticola nigriloris
Lazy Cisticola, Cisticola aberrans
Rock-loving Cisticola, Cisticola emini
Rattling Cisticola, Cisticola chiniana
Boran Cisticola, Cisticola bodessa
Churring Cisticola, Cisticola njombe
Ashy Cisticola, Cisticola cinereolus
Tana River Cisticola, Cisticola restrictus
Tinkling Cisticola, Cisticola rufilatus
Gray-backed Cisticola, Cisticola subruficapilla
Wailing Cisticola, Cisticola lais
Lynes's Cisticola, Cisticola distinctus
Winding Cisticola, Cisticola marginatus
Rufous-winged Cisticola, Cisticola galactotes
Luapula Cisticola, Cisticola luapula
Ethiopian Cisticola, Cisticola lugubris
Coastal Cisticola, Cisticola haematocephalus
Chirping Cisticola, Cisticola pipiens
Carruthers's Cisticola, Cisticola carruthersi
Levaillant's Cisticola, Cisticola tinniens
Stout Cisticola, Cisticola robustus
Aberdare Cisticola, Cisticola aberdare
Croaking Cisticola, Cisticola natalensis
Red-pate Cisticola, Cisticola ruficeps
Dorst's Cisticola, Cisticola guinea
Tiny Cisticola, Cisticola nana
Short-winged Cisticola, Cisticola brachypterus
Rufous Cisticola, Cisticola rufus
Foxy Cisticola, Cisticola troglodytes
Piping Cisticola / Neddicky, Cisticola fulvicapilla
Long-tailed Cisticola, Cisticola angusticauda
Black-tailed Cisticola, Cisticola melanurus
Zitting Cisticola, Cisticola juncidis
Socotra Cisticola, Cisticola haesitatus
Madagascan Cisticola, Cisticola cherina
Desert Cisticola, Cisticola aridulus
Cloud Cisticola, Cisticola textrix
Black-backed Cisticola, Cisticola eximius
Dambo Cisticola, Cisticola dambo
Pectoral-patch Cisticola, Cisticola brunnescens
Pale-crowned Cisticola, Cisticola cinnamomeus
Wing-snapping Cisticola, Cisticola ayresii
Golden-headed Cisticola, Cisticola exilis